Linda Bailey's Blog 
Facebook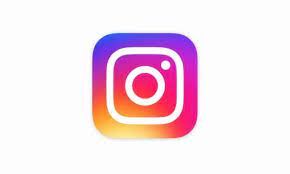 Instagram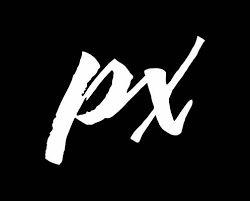 Pixels
 - for prints and products
Saatchi Art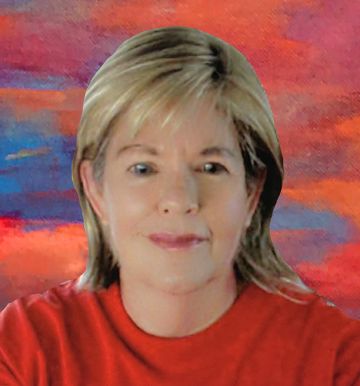 Welcome to my Blog!  It's hard to believe that after so many years of working behind a desk, I am actually realizing my dream of being a full time artist! Please join me on my journey of creating art reflective of my feelings, my surroundings and always of light which adds that extra life to my paintings. My blog posts are below and are listed with the most recent at the top!

June 2023
Like many of you, I spent some time updating my home office in 2020 to make it more usable, primarily more conducive for computer work. Although I am an artist, I spend about 60% of my time on marketing, admin and working with images. The rest, the 40% is spent working on my paintings. Now that we are midway in 2023, is it time to spruce up that home office again?  I'm having to say, yes! You may find you are facing some of the same issues -- 
Here they are:
Inadequate Space: The cleaned up spacious office I claimed in 2020, is now feeling cramped and the room is lacking sufficient space to work comfortably. And now my printer seems too far away from my desk - I guess I'm printing more. So let's evaluate where all the computer equipment is located, too. I might move some of the furniture out to gain more space.
Outdated Technology: And speaking of computer equipment, does it need to be upgraded? One of my monitors has started blinking (at the least opportune times) so I need to get that problem solved, or replace that monitor! It's a good idea to see what is out there in the market. It could be that new technology can significantly improve productivity and efficiency. 
Declining Functionality: Yes, I had everything put away, but where? Where are the staples? where are the paper clips? Sometimes we still need these. It's a good time to assess whether the office layout supports the workflow. Change it! We all know that sometimes change is a great thing. 
Lack of Comfort and Ergonomics:  Well, maybe in 2020 you bought a new office chair, but is it time to upgrade? You've spent a lot of time in that chair! Try out new chairs and get yourself comfortable.
Inadequate Storage: A few months back I was struggling with a lack of storage space in my office. I had some stacks of paper, that had already been taken care of, but since they were still sitting in plain view, I was bothered by them just being there. Some inexpensive storage bins put that paper in its place. Done and done. 
Aesthetics and Motivation: If you feel uninspired or unmotivated in your office, it might be a sign that an update is needed. Creating a visually appealing and inspiring workspace can have a positive impact on your mood, creativity, and productivity.  And yes, a piece or two of artwork that you love can really make the difference.
Technological Advances:  I mentioned outdated technology like computer equipment, but what about advancements and trends that could make a big difference for you. New tools, software or devices may become available that can enhance your work experience. 
Personalization and Growth: As your career or business evolves, your office may need to adapt, too. Consider how your workspace can be personalized to reflect your professional growth, achievements, or evolving style. 
Change in Lifestyle or Home Environment: If you've recently moved, renovated your home, or experienced a change in your living situation, it might be an opportune time to update your office to fit your new circumstances and preferences. 
....Just something to think about!
May 2023

Beach trip! And yes, it's a business trip!  I couldn't wait to get there to not only relax, but to take as many pictures as I could of the waves rolling in and the all the lacy sea foam! I find the lacy swirls and intricate lace-like formations mesmerizing. They add that layer of visual interest transforming the smooth surface of the ocean and the sand into a dynamic canvas! I feel like I took a really good set of reference photos for future ocean paintings!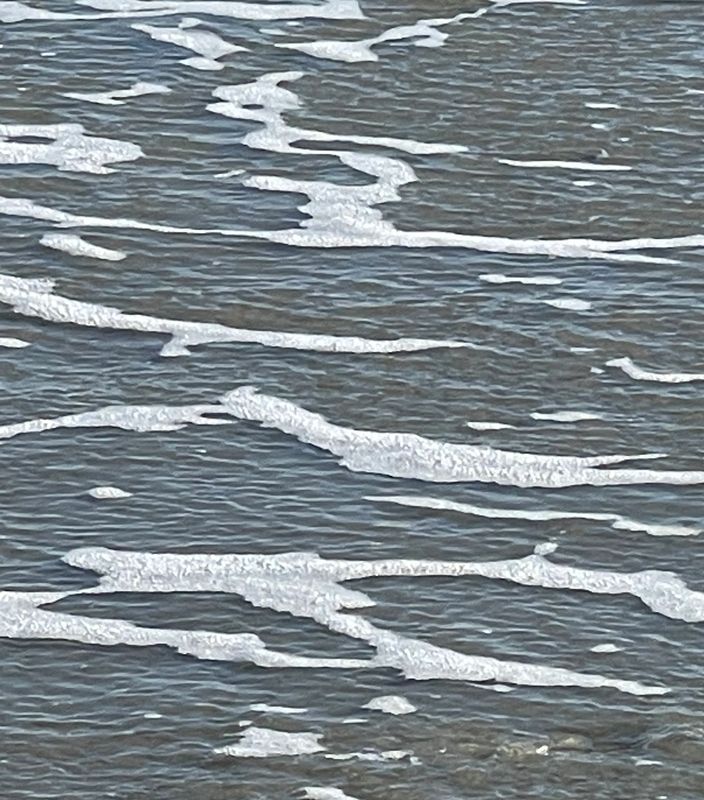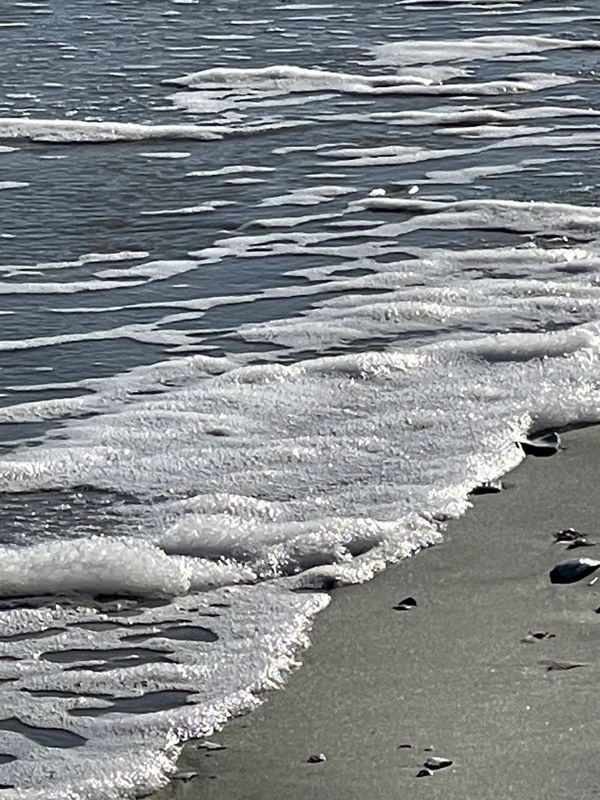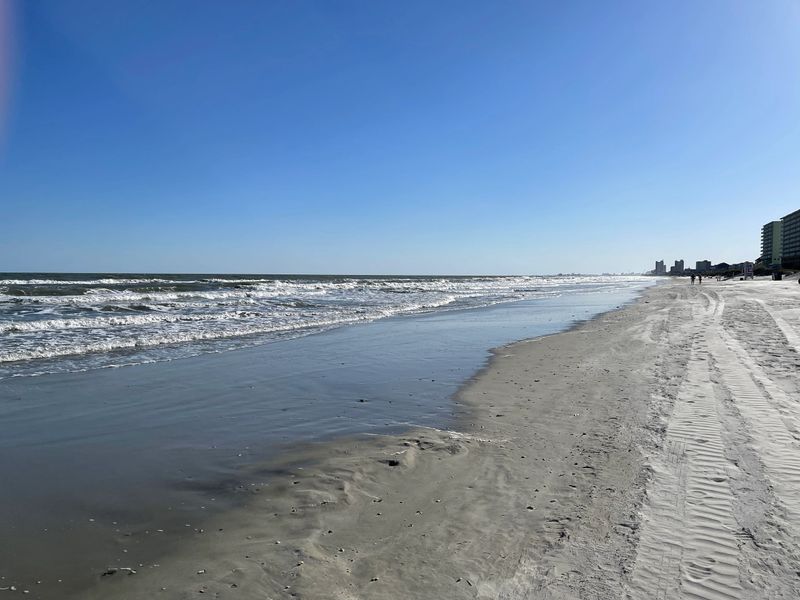 April 2023
I really got busy with getting the Inspirational pieces printed on canvas. Here are two of those. 
The print on the left is from one of my original paintings, and I've added the inspirational scripture. The colors and details of the artwork create a sense of tranquility and beauty. The blue-gray tones capture the ever changing light on the water since the reflected light creates a gentle shimmer, evoking a peaceful and calming atmosphere. The Psalm 36:5 scripture enhances the overall message of divine love and faithfulness that extends beyond our human understanding, reminding us of the deep connection between spirituality and nature. 
The print on the right is from my original painting, 'Across the Great Divide'. This captivating piece combines shades of blue, gray, and purple with a prominent presence of white light descending from heaven. The colors chosen create a mystical and ethereal atmosphere, evoking a sense of wonder and awe. The focal point of the art is the divine light, a fitting background to the Psalm 16:11 scripture. This scripture speaks to the idea of finding purpose and fulfillment through a connection with our Lord, guiding us on the path of life towards everlasting joy and contentment.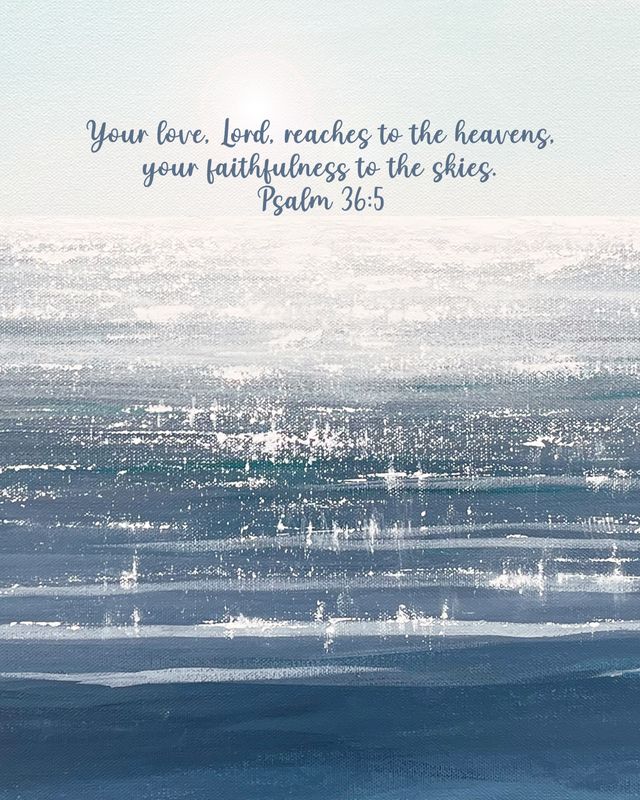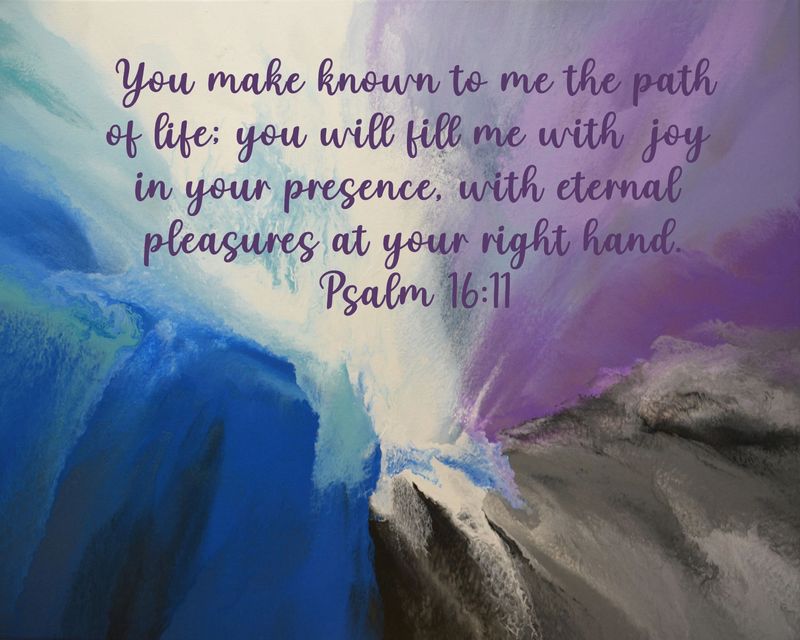 March 2023
In February & March, I captured some great shots while walking early morning and early evening. Why do I like photos of the sky so much? The interplay of light and shadow creates depth and dimension, adding to the visual appeal. Cloud formations, whether wispy and delicate or dramatic and billowing, are equally beautiful. Beyond the colors and shapes, photos of the sky convey a sense of vastness and openness. The expanse of the sky seems infinite, reminding us of the boundless possibilities that exist beyond our immediate surroundings. It can evoke a feeling of freedom, serenity, and a connection to something greater than ourselves. Ultimately, photos of the sky invite us to pause, reflect, and appreciate the beauty and magnificence of the world around us. They serve as a reminder to find joy in the simplest of things and to embrace the extraordinary within the ordinary.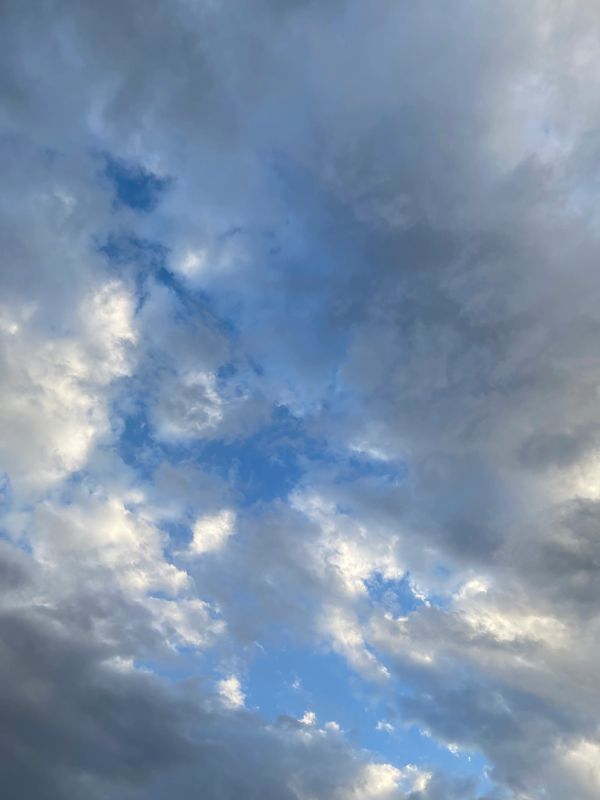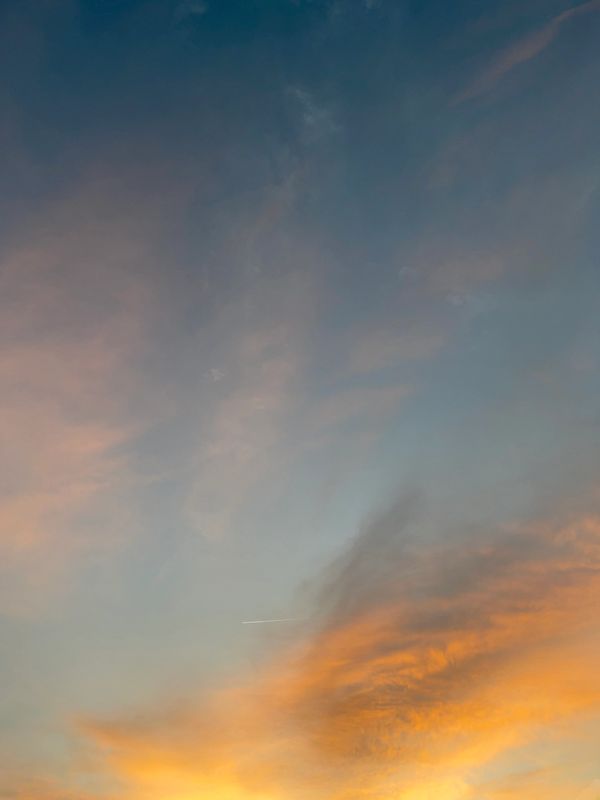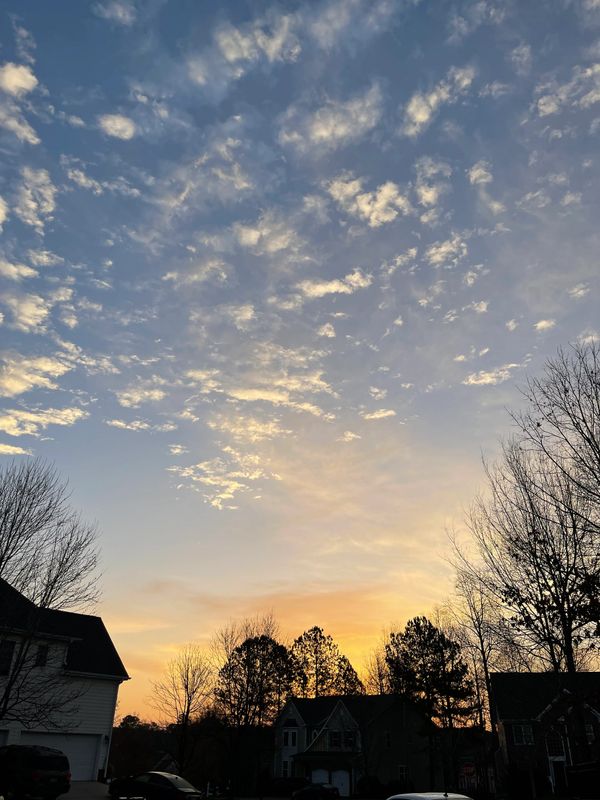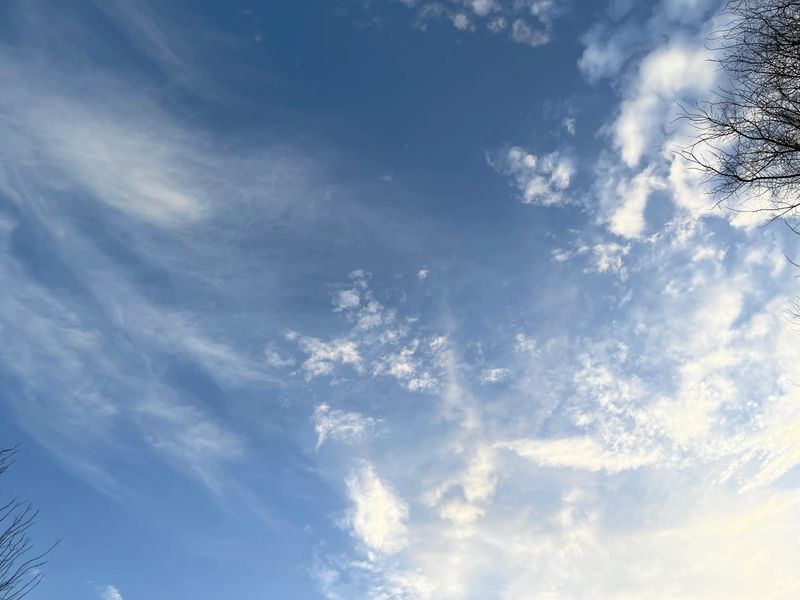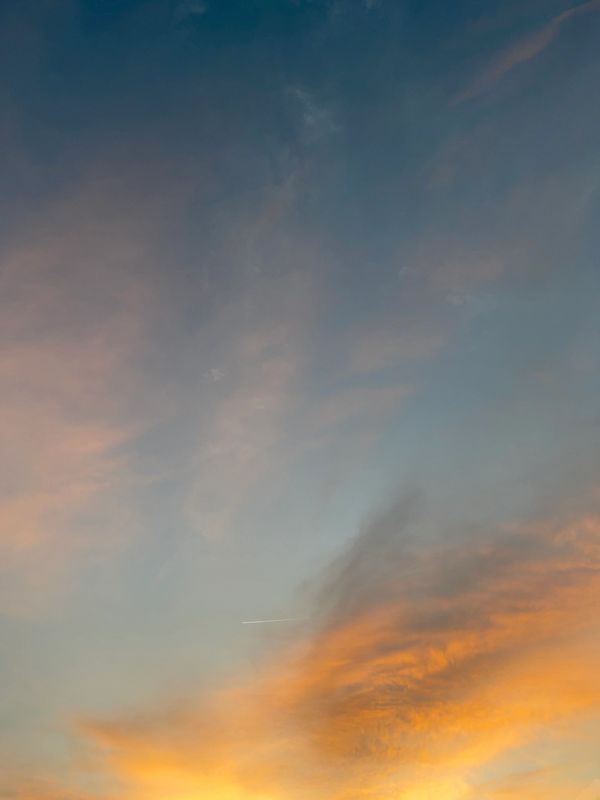 February 2023
In February, I had several of the digital downloads printed out so I could check the quality and see if the font size really worked with the image in the background. Here are a few: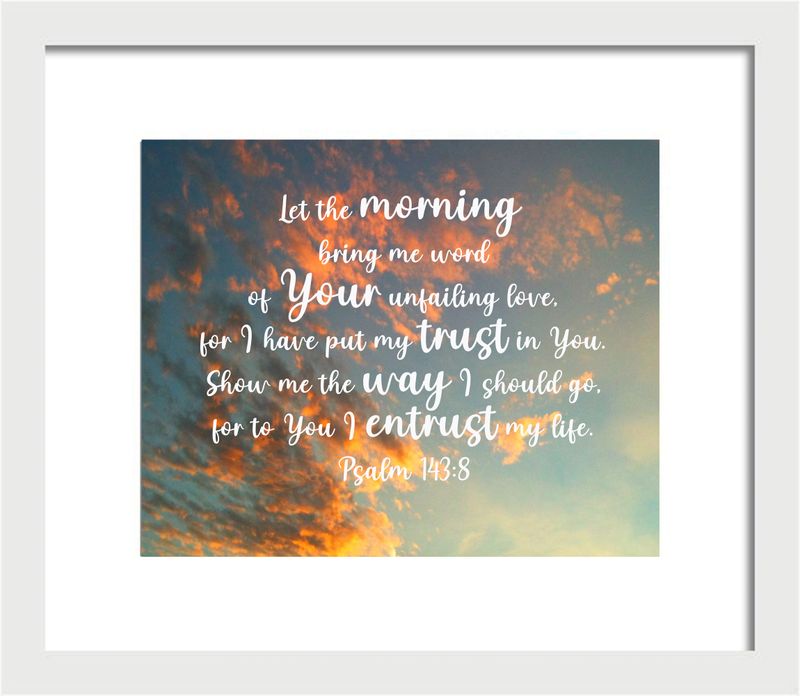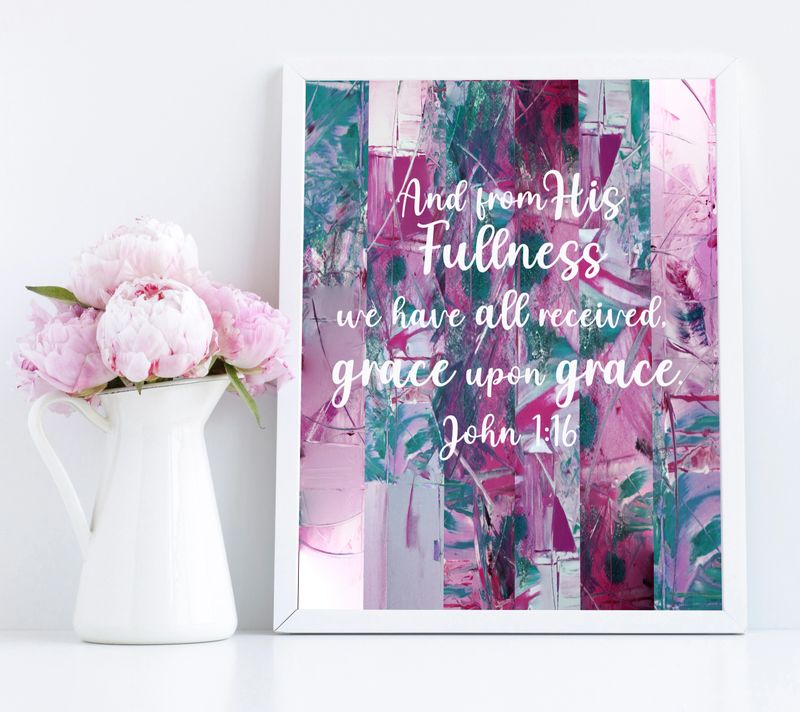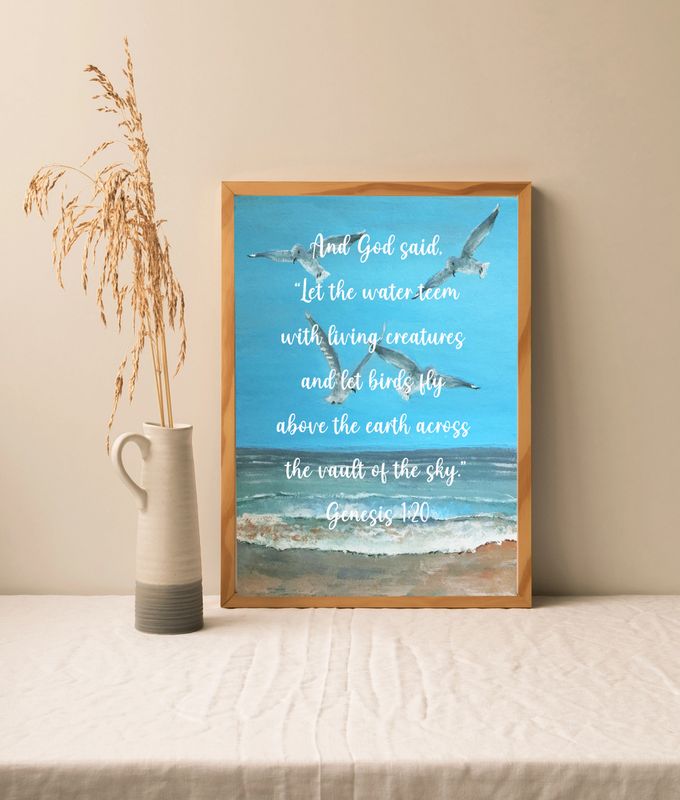 --------------------
January 2023
Resolution:  I am resolved to be set apart for Jesus! So He put it on my heart to create images with scriptures.  The images are of my artwork - sometimes the full piece of art, but most of the time a close-up shot, and sometimes a photo of the sun glistening through trees or a photo of the sky. Then I placed a beautiful uplifting scripture in the foreground. These new creations are all uploaded to my Etsy store here:  https://www.etsy.com/shop/LindaBaileyArt
--------------------

December 2022
This December was jampacked with a lot of fun for us. We cooked hot dogs on a bonfire at a friends house, and created gift baskets for the widows of Fellowship Lodge 687 members. We joined the church bell choir and even though we had only practiced 6 times, we performed for two Christmas programs. Look how serious we are focusing on our music but it was fun! Music is a game changer in my life. Celebrating Christmas at my sister's house on a lake in Georgia was a hoot with lots of kids & good times. How could it not be with the squirrel and Cousin Eddie from Christmas Vacation!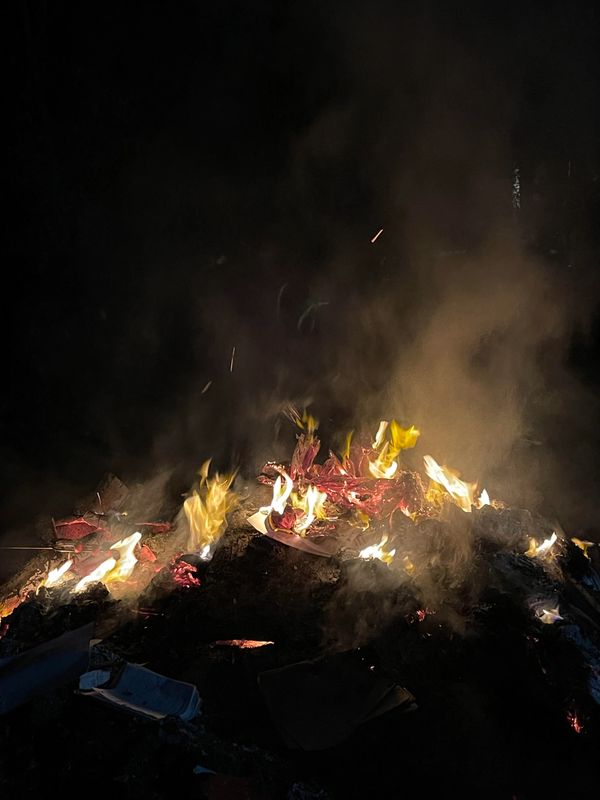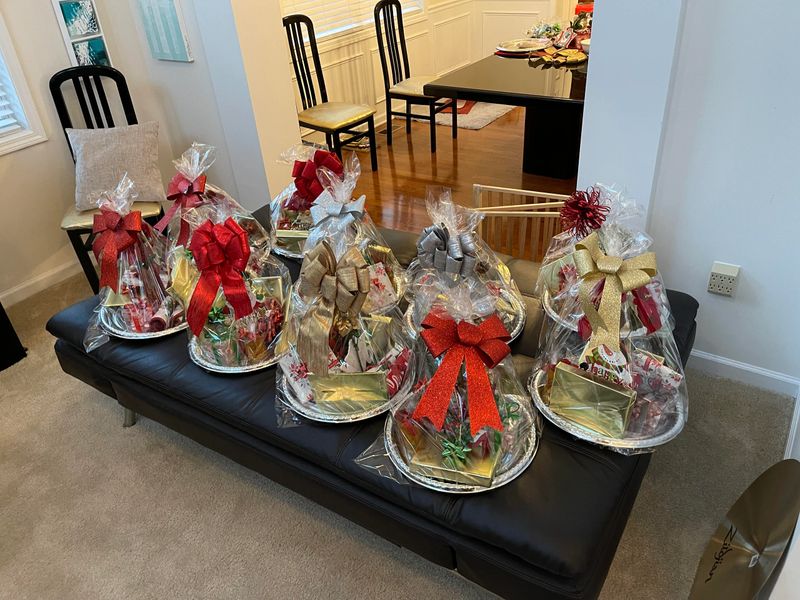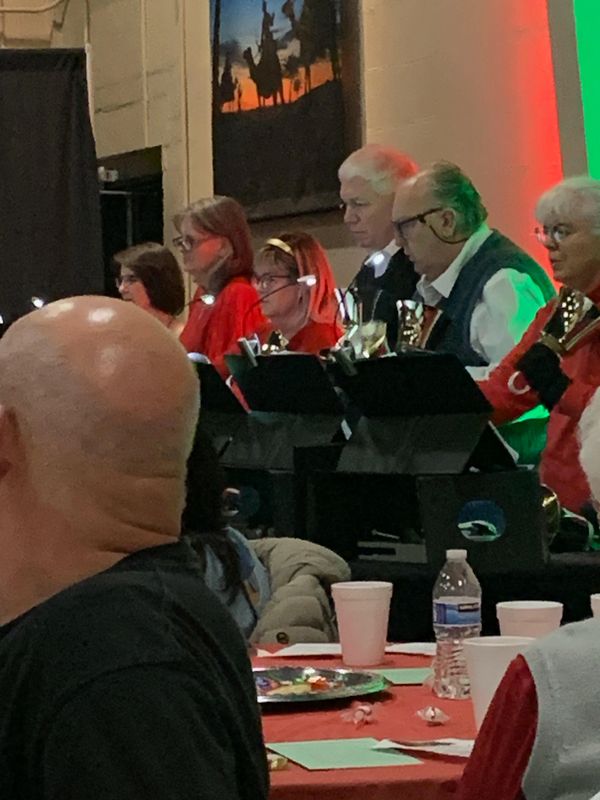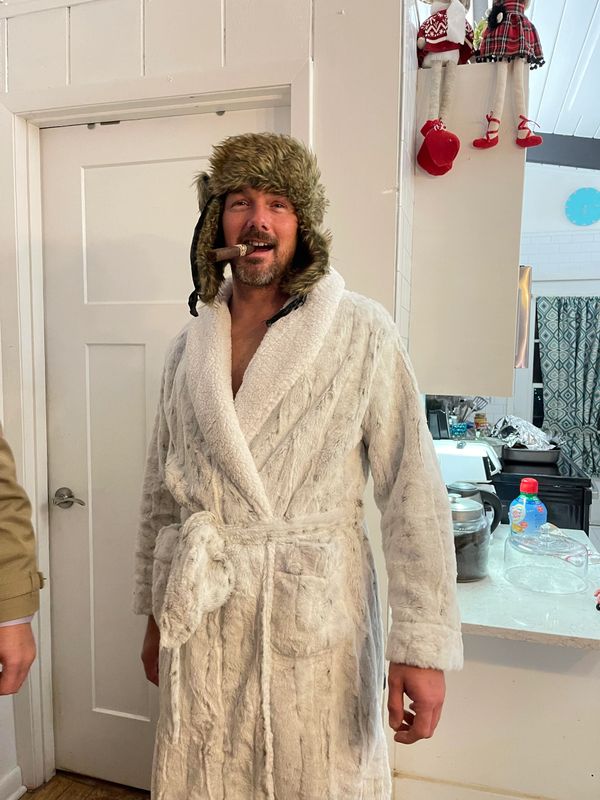 -----------------------------
November 2022
A big thank you to Stephanie Jopson for allowing me to substitute for her at the Bridge to Success BNI Group in Hillsborough. This picture was taken while I was setting up for the meeting, which included putting a few of my paintings on display. Here's a link to this BNI Group:  https://trianglebni.com/nc-triangle-area-(raleigh-durham)-rd20-bni-bridge-to-success/en-US/index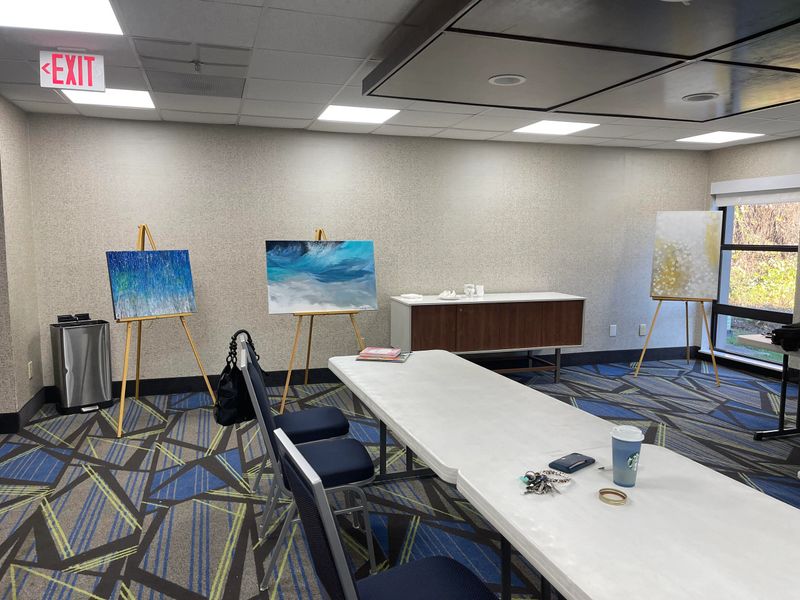 -----------------------
October 2022  
I fell in love with October again!  The temperatures and the foliage make for a beautiful and exhilarating walk every day! Look at these colors!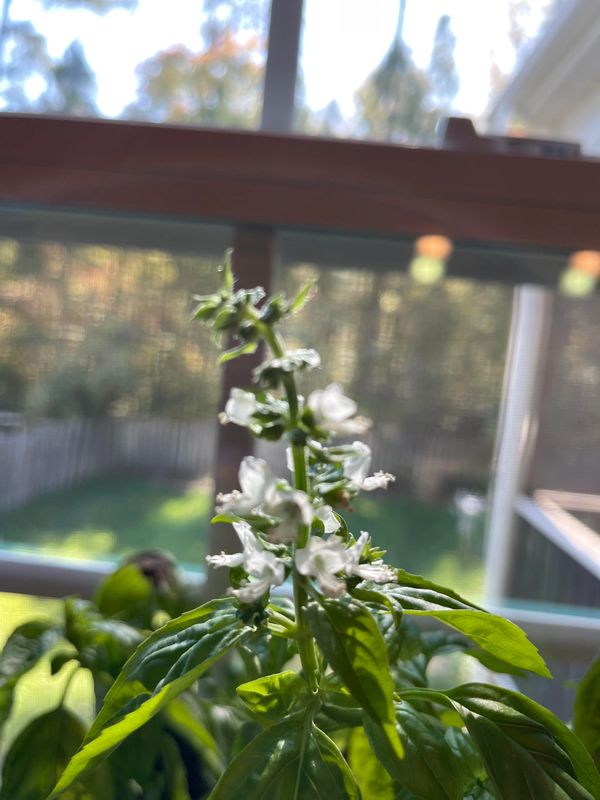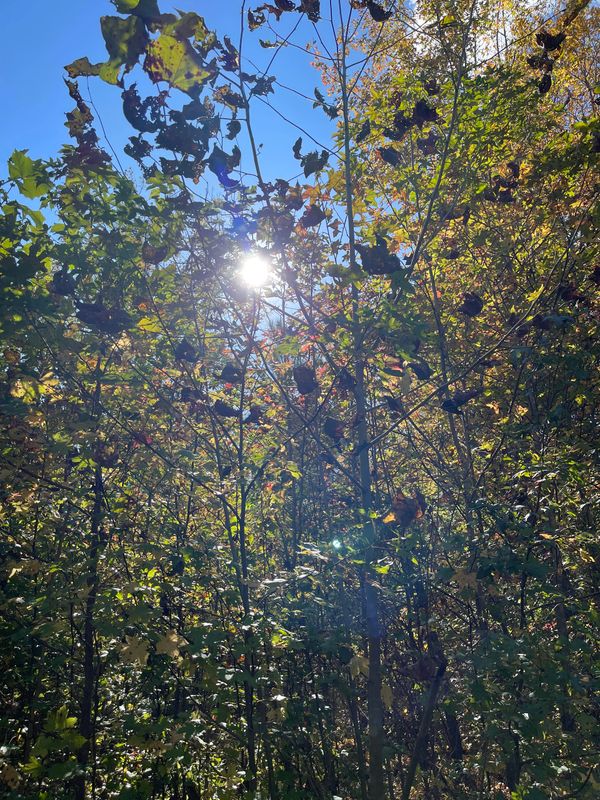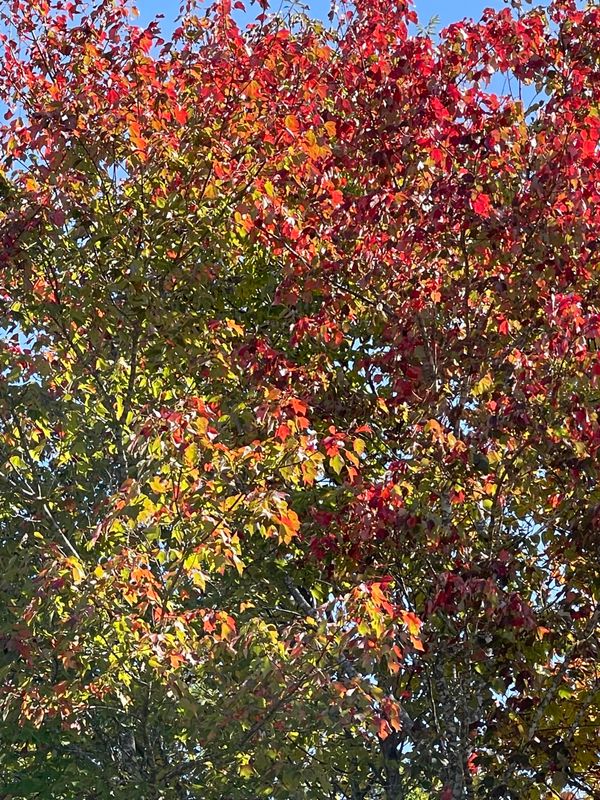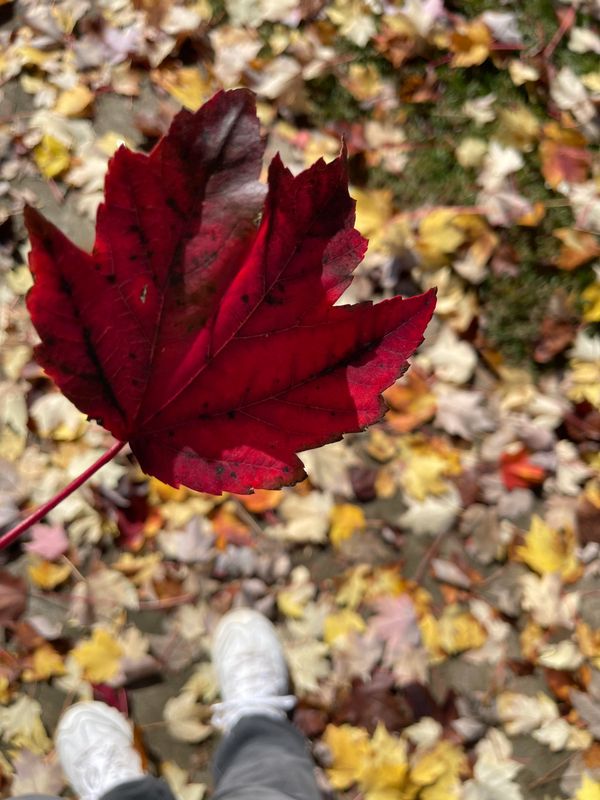 -------------------------------
September 2022
Back to school for you? Back to school for the kids? Are you putting up fall decorations? How about planning family pictures? Sports and team pictures! Tracy Thompson from Thompson Team Photography will capture the energy and spirit in all your photos.  Don't forget about your furry family members!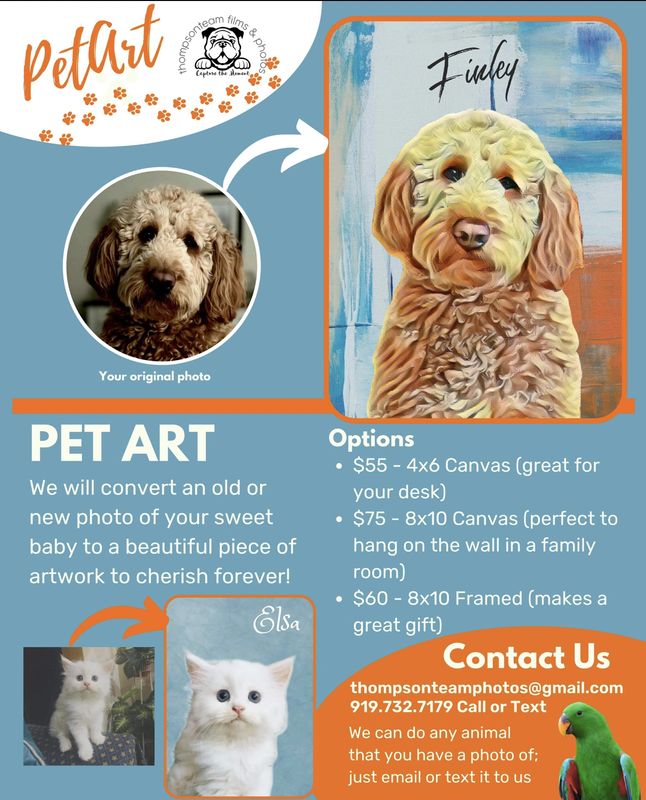 ---------------------------
August 2022
The Hillsborough NC Last Friday Art Walk is always such a good time with lots of reconnecting with the community. My work is on display at the Angel Oak Home Loan office on Churton Street. If you are even considering a new home, give JoAnna Walker a call to learn more about all the new mortgage products. Here is JoAnna with some of my artwork.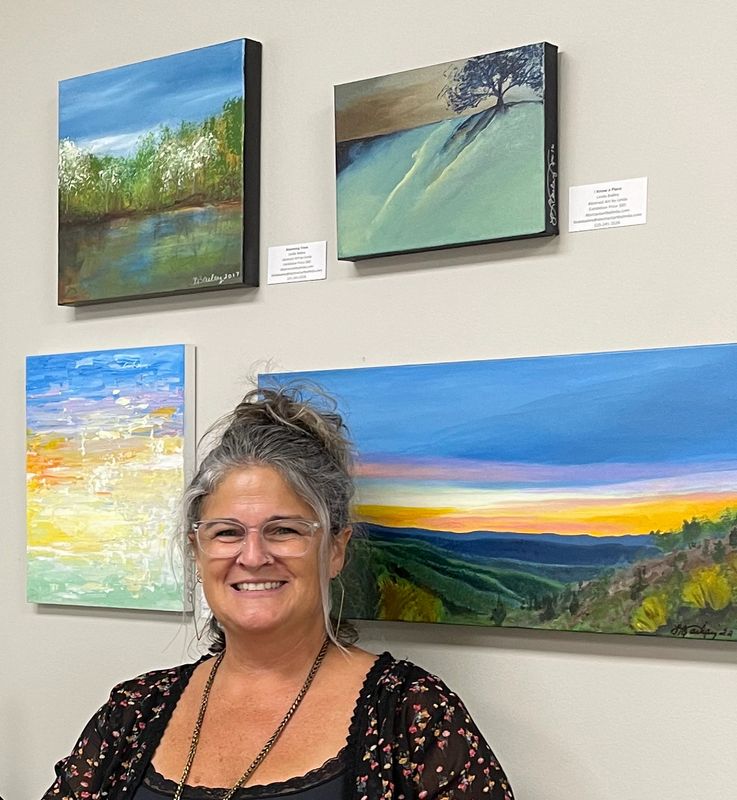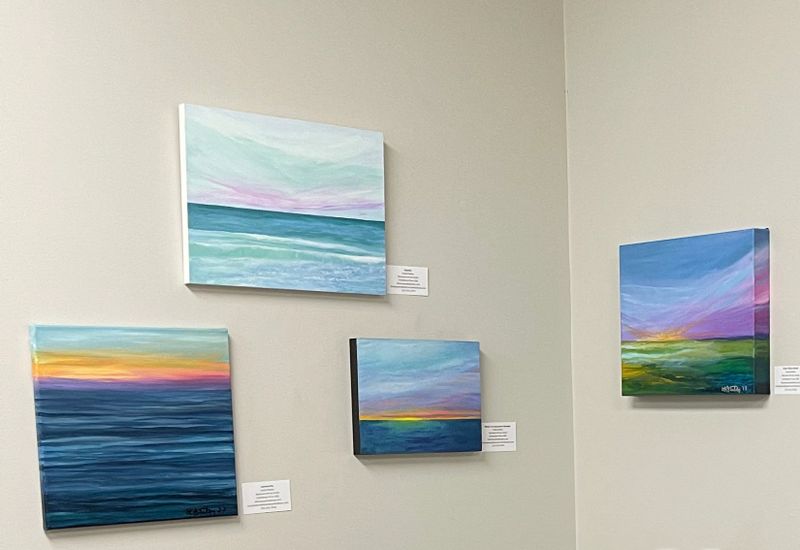 --------------
ShopVida -  August was a busy month relaunching apparel, home items, and accessories using my artwork in the designs. These creations resulted in exclusive designs.  I'm in the process of building the inventory.  Linda Bailey's Custom Collections will include Athleisure wear including tops, resort wear, wraps, leggings, and capris / yoga pants. The Home Decor collection incudes pillows, placemats, glass decorative dish designs and many other items.  Feel free to browse!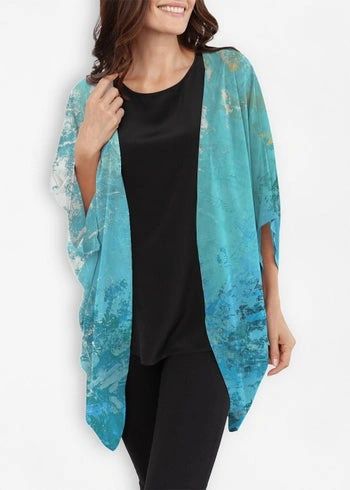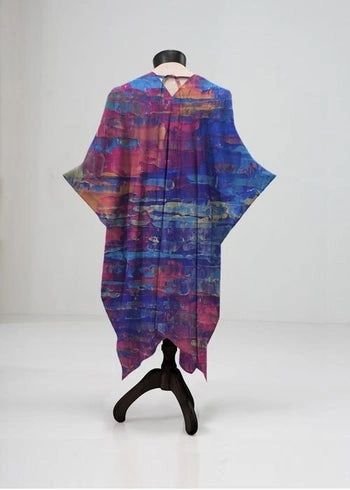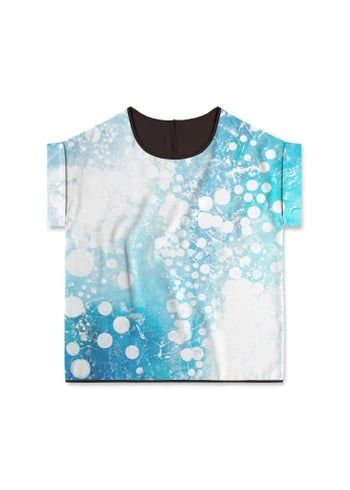 'Grassland' is one of the first images I used to kick off the athleisure line. It's an enhanced photo of some grasses growing right outside my art studio. I took the photo early in the morning while all the vegetation was still very damp and reflecting the sunlight. I could just as easily title this 'Joyous' because that is the emotion and feeling I have when looking at it. I'm showing that image here on the sarong wrap - the first image above.
--------------------
July 2022
Cecy's Gallery: July began another exhibition at Cecy's Gallery & Gift Shop. They are located at 417 Foster Street in downtown Durham. They are right next to the Farmer's Market. I am showing a variety of artwork from bright abstracts to subtle cool pieces. Something for everyone!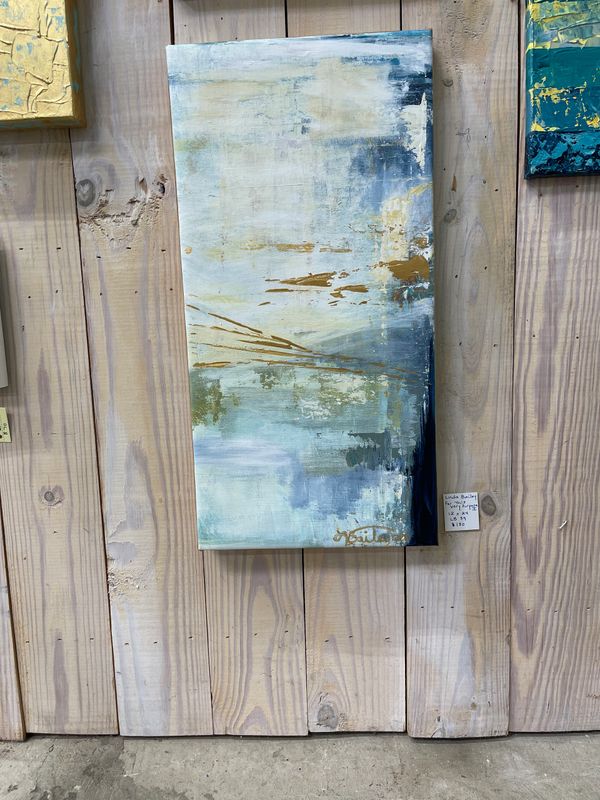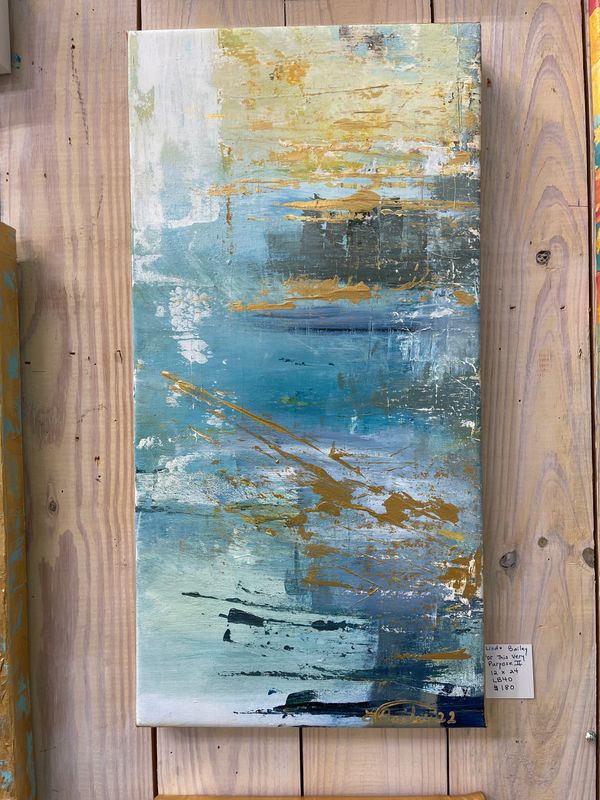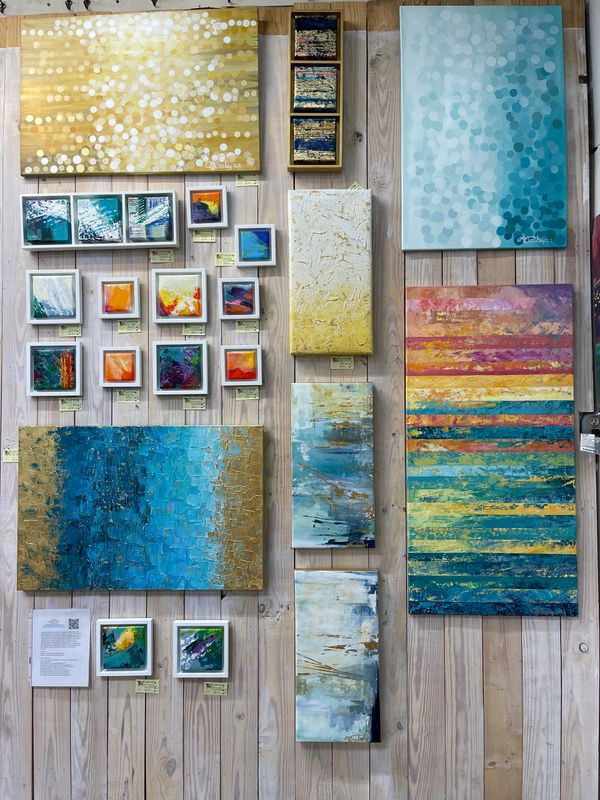 ------------------------
June 2022
The Women in Networking Hillsborough Chapter held an in-person visitor day at Hawfield's Civitan Club in Mebane, NC. We had a great turn out of Chapter Members along with visitors. Such a great group! We spent a lot of time Networking before and after the meeting. It's always a very uplifting and positive meeting especially when we can meet in person.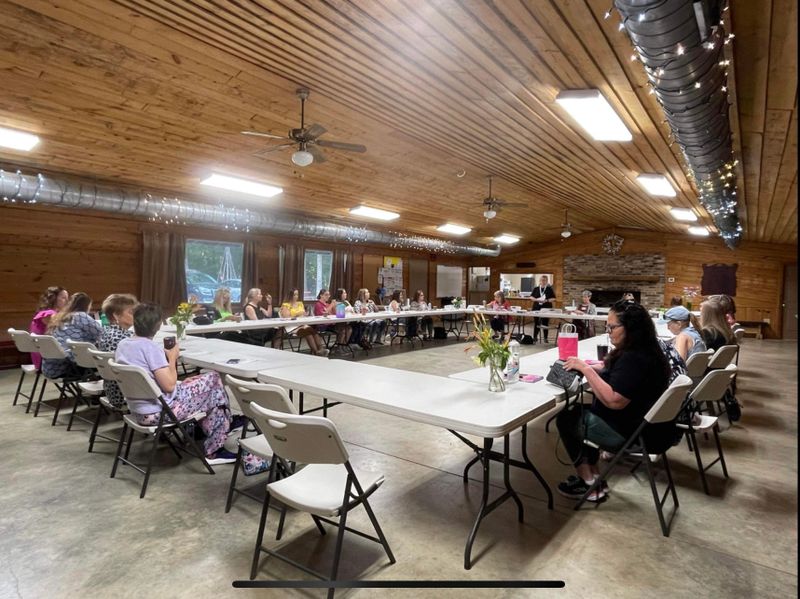 ---------------------------------
May 2022
In May I had a couple requests for artwork donations to support local charitable organizations. The first piece, Jubilee, was donated to Hope Renovations for their annual fundraiser. Martrisha Bradshaw requested the donation. Martrisha owns Home Project Installers, LLC.  This painting was inspired by the book of Leviticus regarding the Jubilee year, and specifically, Leviticus 25:12 'For it is a Jubilee, and to be holy for you...'. 
Bonnie Rose, Women in Networking member, and Farm Bureau Agent, is accepting donations for an upcoming quarter auction and silent auction benefiting Hawfield Civitan Club in Mebane. I was able to donate two small paintings, Beach Buddies and The Gathered Waters (inspired by Genesis 1:10 God called the dry ground "land," and the gathered waters he called "seas." And God saw that it was good.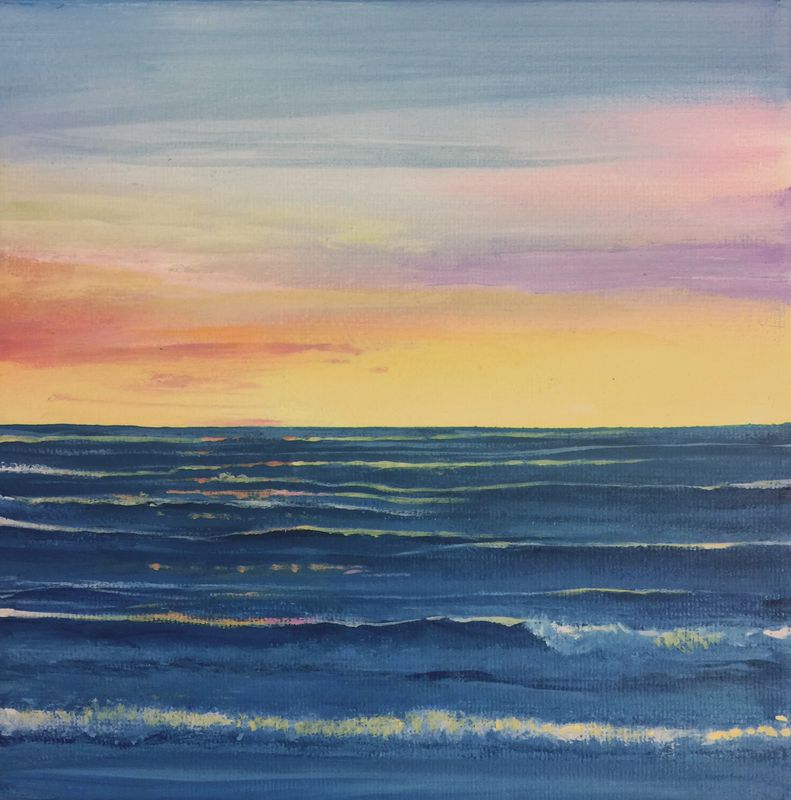 -----------------------------
April 2022 Thoughts of vacationing inspired me to paint Tropical Resort I.  It's quite the pick me up!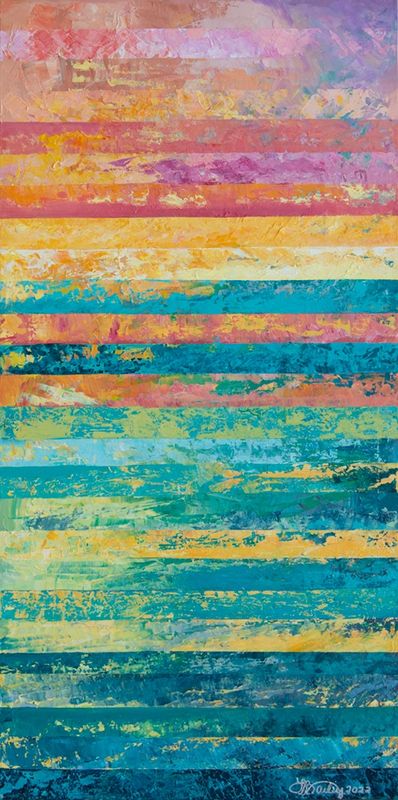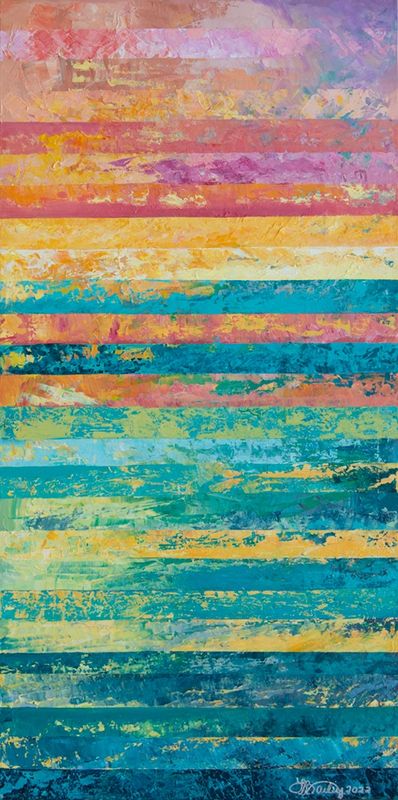 ----------------------------------

March 2022
I have to say that I am blessed as an artist because I never run out of inspiration. How could I? I am inspired by scripture, by song lyrics and by being outside . But this month, I decided to took a new take at what inspired me. I looked at artwork that I created in the past, and then tried to create something new based on that finished image. One way I did this was to put my photos in an app that I've been using for 10 years. Here's a sample of what it does. See how that has influenced some of my paintings?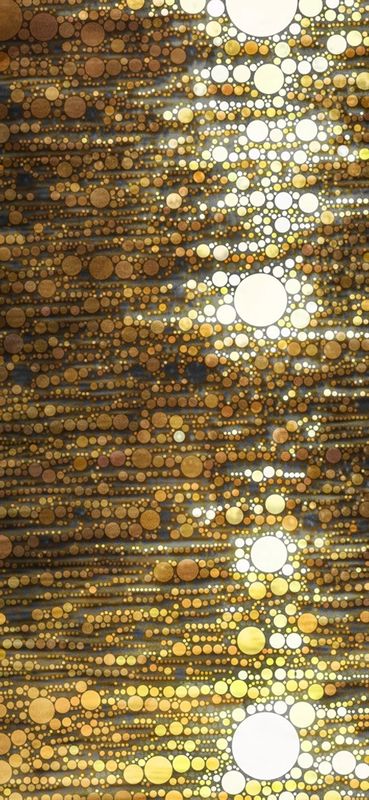 -----------------------------------
February 2022
Cup A Joe is letting me put up additional art and extending my exhibition through February.  So it's time for some coffee cup artwork!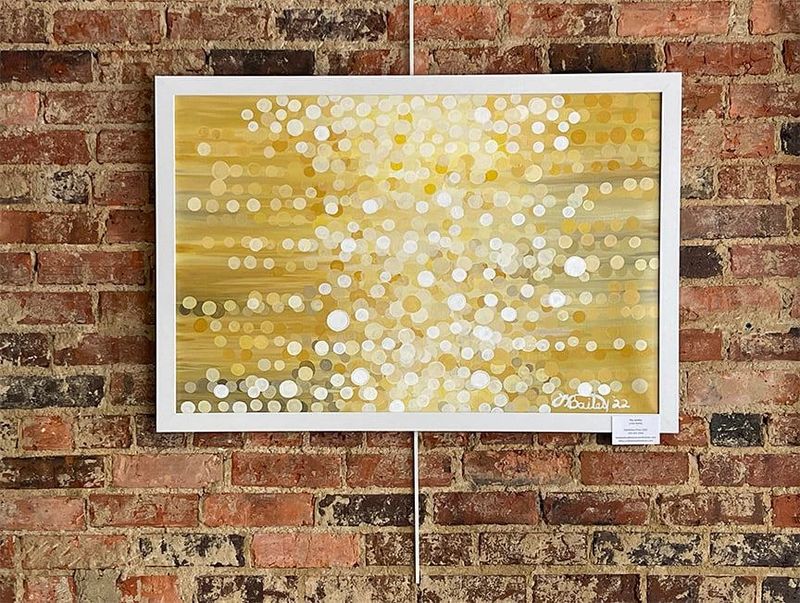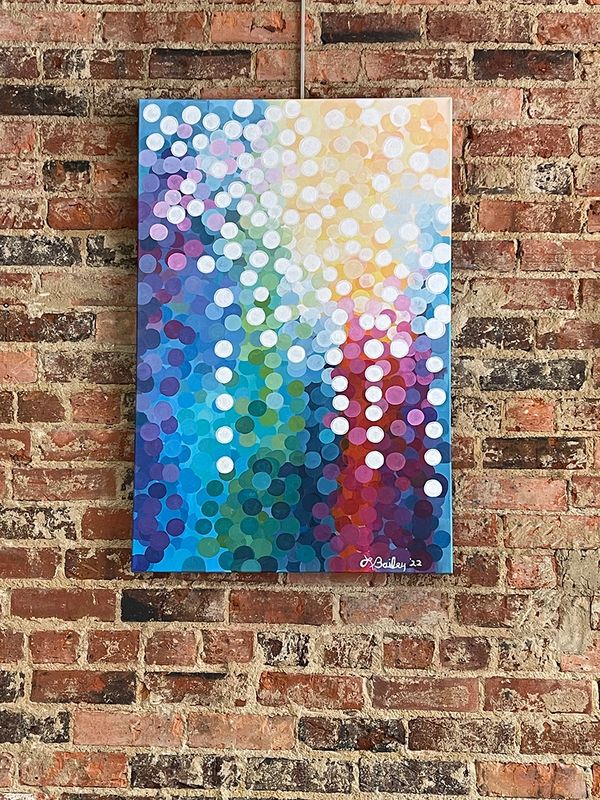 January 2022
Artwork went up at Cup A Joe coffee chop in Hillsborough, NC. I put up a lot of the brights that were hanging at Cecy's Gallery. So bright. I've been getting back to painting water again. Sometimes it's pretty realistic. Other times it's very abstract. 
----------------------------------------
December 2021

This year my Sunday School class decided to put together care baskets for those class members who have not been able to come back to class. Some stay away for fear of getting sick. Some just cannot make it to church or Sunday School anymore. The rest of us brought small gift items and personal items to put in a decorative basket. It was a lot of fun working together and getting them all wrapped up. I put a small painting in each basket until I ran out. For the rest, I put this print in a little frame.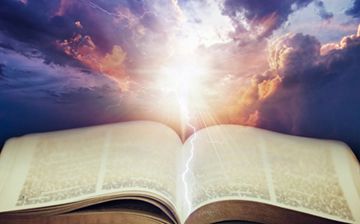 ------------------------------------
November 2021

November has been crazy busy, right? But it's 'good' busy. I am finally uploading all the images that I created for the Choctaw Casino Resort Hotel. It is a slow process getting them uploaded since I am resizing each individual image but it is so worth it. I almost had forgotten how awesome some of these images are.  They are definitely one of a kind and very unique.  Here is one. It's called 'Praising'.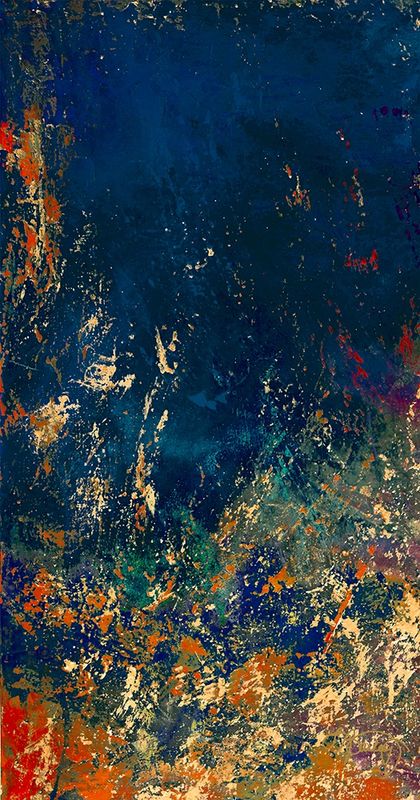 -------------------------------
AND probably one of the most important acts of service I've been involved with this year is an Enchanted Forest display. My Women in Networking group teamed up with The Exchange Club's Family Center, to creatively collaborate and build a display for the Enchanted Forest. The area around Hawfield's Civitan Club in Mebane, NC is being transformed into a magical, winter wonderland from Thanksgiving through Christmas. Here is my portion of the effort.  I'll be posting pics from the complete display installation this coming Sunday afternoon.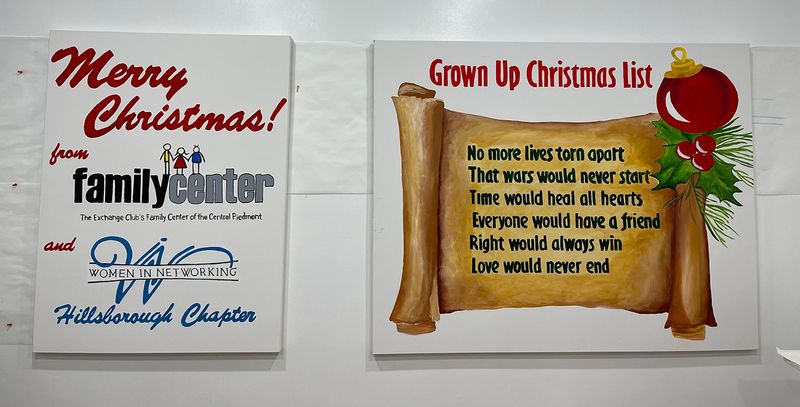 Here it is all put together.  I'm waiting for a picture of it all lit up.  Amazing effort by our collaborative team!
-------------------------------------------
October 2021
How could I not notice all the beautiful colors this fall?! It seems as if they are more intense this year.  
So I spent time enjoying the beautiful bright hues around me and being filled up with them.  Then I installed new artwork at Cecy's Gallery in downtown Durham.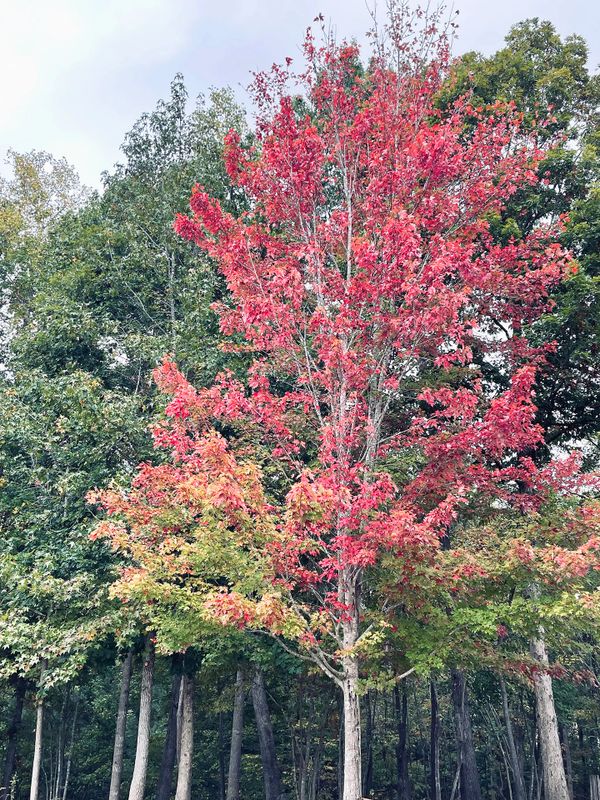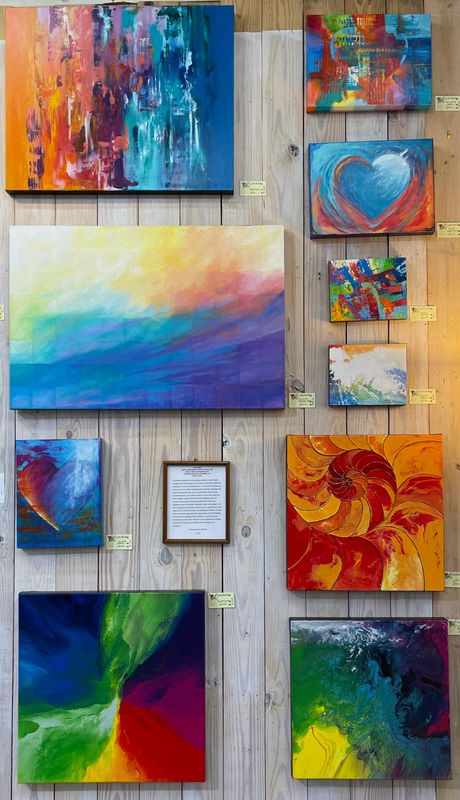 ------------------------------------
September 2021
The addition to my Art Studio is now complete!  With the extra room, there is obviously more space for working on larger pieces, having more pieces in various stages of completion - especially for drying!  The new area has whiter walls and brighter lights so it quickly also has become the room for photographing my artwork.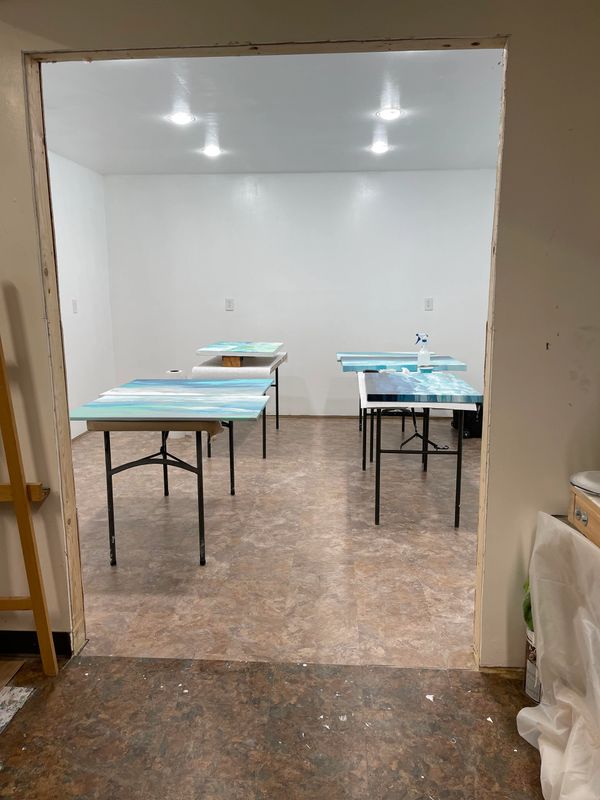 -----------------------------------
August 2021
Well, my visibility in Hillsborough, NC has expanded quite a bit. A new member in our group, Jo Anna Walker runs Angel Oak Mortgage Loans and she's got a great location right on Churton street which is the main drag. I was able to have several pieces up in her conference rooms and a couple up in two of her offices. The artwork really helps bring the decor all together. Although she doesn't use her conference room, she encourages local real estate agents and clients to use it for their meetings. This is just one way Jo Anna gives back to the community. The artwork looks great in that conference room. Here's a large piece I hung in there. It's 60" Wide x 48" High x 1.5" Deep and is called 'An Offering".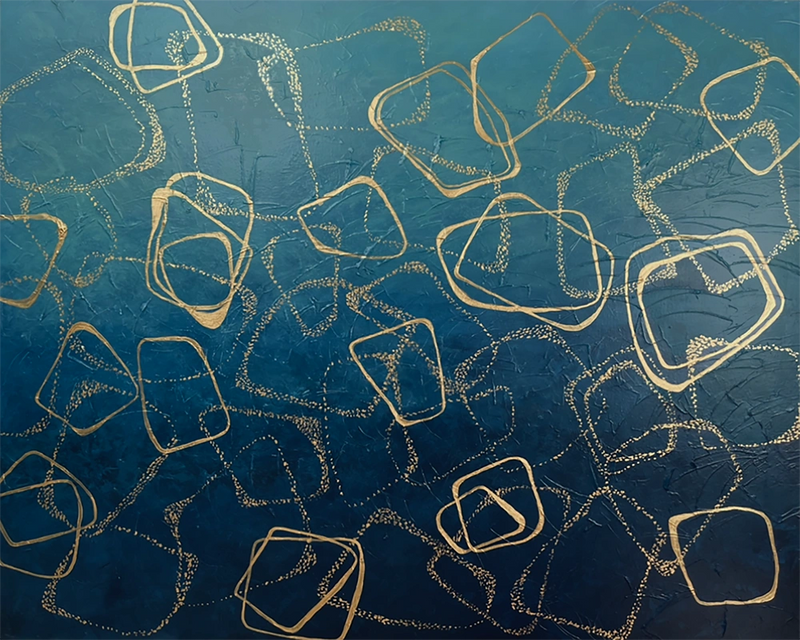 ---------------------------------------

July 2021
Yes, it just keeps getting better! My friend and colleague, Stephanie Jopson from my Women in Networking group, referred me to Cecy's Gallery in downtown Durham. Well! I now have several pieces of artwork hanging there among other fantastic artists' work! I'll also be taking a few more larger pieces next week!  If you are in the Durham NC area, try to get over to Cecy's Gallery & Studios (417 Foster Street, Durham) to check out my paintings, and the work of I don't know how many other professional artists. Every single piece of work in this gallery is so unique and professionally done. I would guess there are probably 8 or 10 painting artists, and probably 20 or 30 artists creating jewelry, pottery, clothing - all very high end and unique. I'm trying to get the names of all the artists so I can follow and support them on social media.   Here is an up close look at one of the  paintings I am currently exhibiting.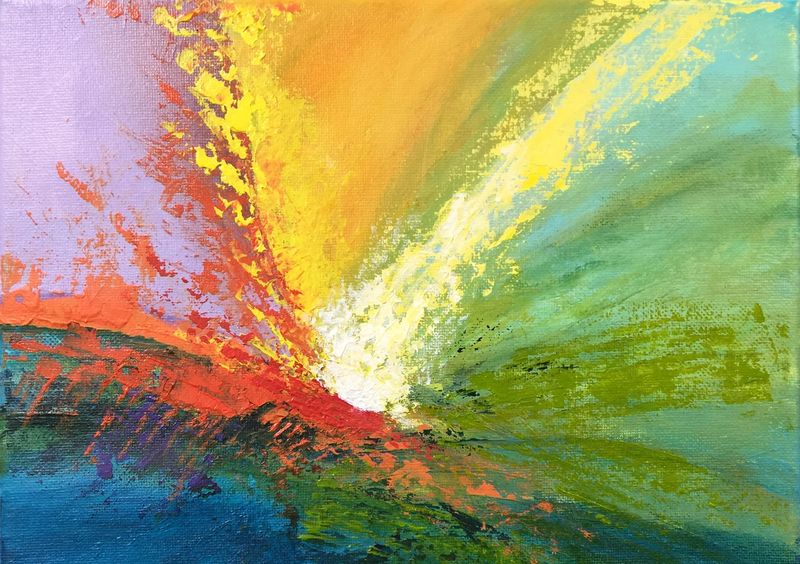 ------------------------------------------------
May - June 2021
The beginning of summer has been a time for me to really get my artwork out there!  Isn't that what artist always say they need to do?  Up until now I have to admit that having my artwork in a business office setting has always felt the most comfortable to me.  Available artwork can be found here:
VentureX RTP in Bldg 600 (600 Park Offices Drive, Durham) - make an appointment with Evan 919-529-5747 to tour the office space (very cool and comfortable plus professionally appealing!) and see about 40 pieces of my artwork. 
Bldg 700 (700 Park Offices Drive, Durham) - If you like larger sized artwork, my art here is 36" x 48" and 48" x 60" 
Brian Piccirillo @ Edward Jones (3020 S Miami Blvd, Suite 203, Durham) - Brian put out a call for artists to hang a piece or two of artwork on a wall that is designated for local community artists.  The piece I have hanging there is called Southern Ocean Blue and is a unique one-of-a-kind creation. Brian is very active in the community and in the Durham Rotary Club so I was very happy to answer the call. A WIN sister - Emilee Collins saw the post on Facebook and messaged it to me. 
Hillsborough, NC - My friend and colleague, Emilee Collins is a Commercial Real Estate agent with several office space listings in the city of Hillsborough. Emilee is in my Women in Networking group. I should also say that these listings are right in the heart of the city where other businesses, restaurants and shopping are all within walking distance.  Although staging a home is a common practice in residential home selling, commercial office space is usually empty at the time it is available for lease. Emilee and I have teamed up to use art in office spaces available for lease to give perspective tenants ideas on how to use art in the office.  It also helps them remember the office space. 
Hillsborough, NC - Love the arts??? Renowned music instructor and owner of Bull City Music School, Jeanetta Hopkins, invited me to hang my artwork in her Hillsborough location (121 N. Churton Street) for 'Last Friday' art walk for June and upcoming in July. Jeanetta and I are WIN sisters - both in the same Women in Networking group. Bull City Music School is right next door to the police station, and right behind Hillsborough Gallery of Arts.  Here is one of the new pieces I chose to put at her location. You should come by the Last Friday of July 2021. Jeanetta will have students demonstrating their musical talent while you are viewing new art!
--------------------------------------------
March - April 2021
Spring brought very welcomed challenges!  You may not know that I am a Certified card-carrying Choctaw Indian. In 2015 when I submitted my documentation to the Department of Interior for certification, I spent a lot of time looking to see what the Choctaw Nation of Oklahoma is all about.  Their website included an area Choctaw artists could upload information about their art along with contact information.  So fast forward to March 2021, and the Choctaw Nation of Oklahoma reached out to me to purchase digital images of my artwork. They wanted to produce prints for hanging in the hotel rooms and corridors of the $600M newly expanded Choctaw Casino Resort and Hotel in Durant, OK.  Yes, this was a huge, very interesting and challenging project for me, but I loved every minute.  Talk about looking at my artwork in a very different way!  Generally speaking, I would take one image, create several variations of it, clean it up and increase the size several times larger. High res has taken on a whole new meaning for me now!  You can take a look at the expansion here:    https://www.choctawcasinos.com/durant/  The Grand Opening is scheduled for August of this year!  Here is an example of a variation from one of my original paintings.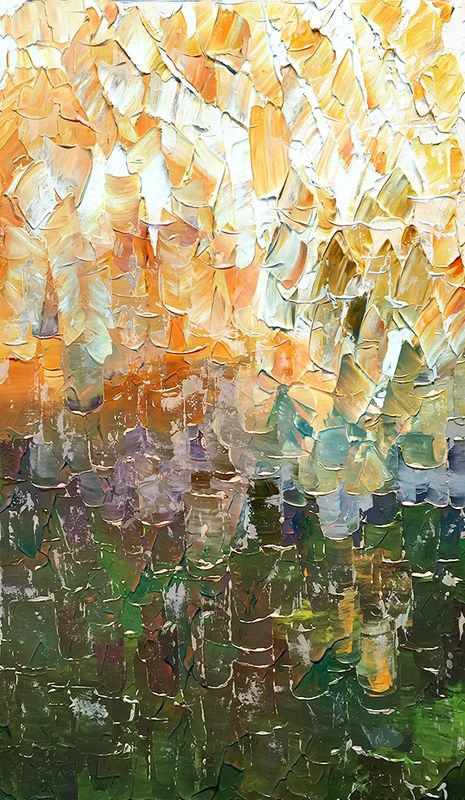 ---------------------------------------
January - February 2021
In January and February, I did a lot of looking back at work I have done in the past. Since I paint so many styles and use several techniques, I toyed with the idea of focusing in one area so that my look would be more recognizable and I could really establish a specific branded look. Considering I've created over 500 pieces of art and sold most of it, I thought there might be a collection that I could identify as the Linda Bailey look.  At the end of this exercise, which took me weeks to go through, I'm of the thought that I like change for the sake of change, I like variety and more than anything, I enjoy the challenge of creating new techniques that end up creating a completely new and unique result. That being said, I'm sticking with my same game plan and painting what I want when I want and how I want. 
---------------------------------------
December 2020
Ocean paintings seem to have a greater significance and appeal to a lot of people - no matter where they live. This painting, called 'The Sea is His' was sold to a collector in Stockholm, Sweden. Although it took more time to create it, I really enjoyed finetuning the detail work in this one. I was striving for a photorealistic painting and feel that I got pretty close. I had to purchase a new set of teeny brushes for all the teeny brushstrokes. Such a far cry from my large broad brushed abstracts, but I truly enjoyed creating this peace. It actually was very calming to paint.  More of these are in my plans for 2021!  I also painted and hung some larger broad brushed paintings. Here are a couple that are on exhibit at VentureX in RTP:  Spirit Filled and Spirit Led. Displayed at opposite ends of the same conference table, they look great in the space!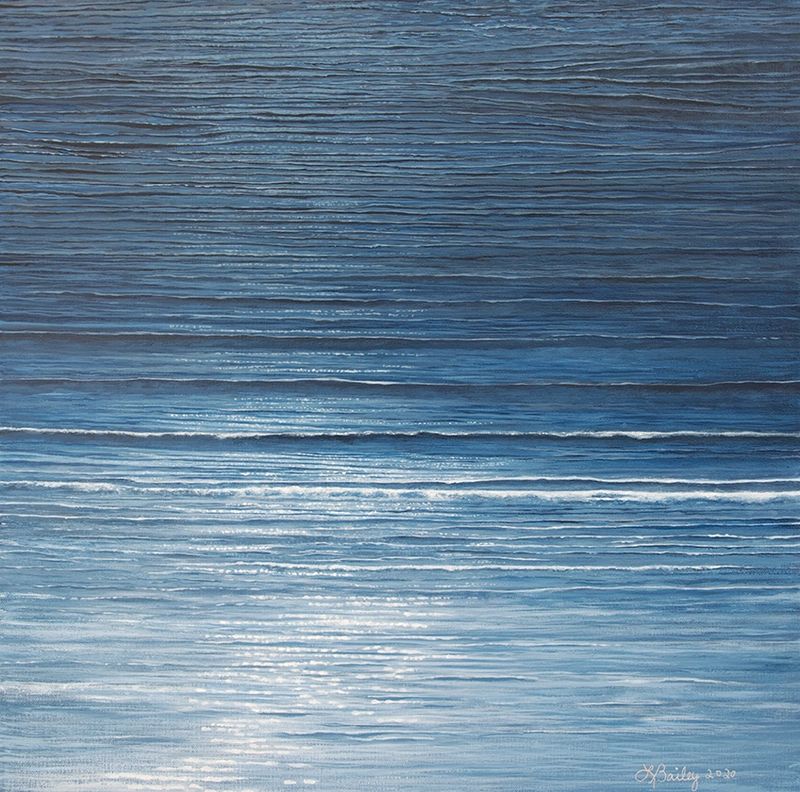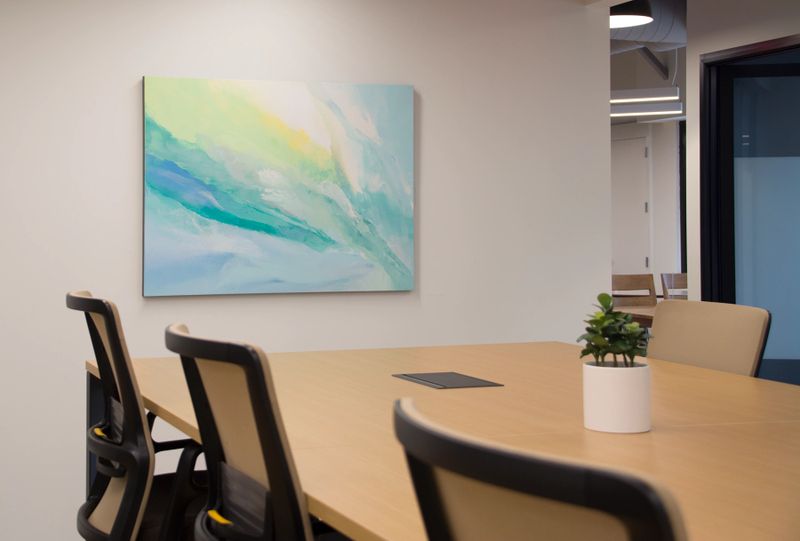 --------------------------------------------------
July - November 2020
Still focusing on large format artwork - 48" x 60" - yes, that's big!  During this time period, I loved painting colorful energetic paintings and then spend the time with something calming.  I  have to say my artwork really reflects the real me during 2020. These pieces are now hanging in the Building 700 location in RTP. 
Did I mention facemasks?  Facemasks with my artwork were and still are available here:  https://lindabailey.pixels.com/shop/face+masks  Available in flat and in pleated.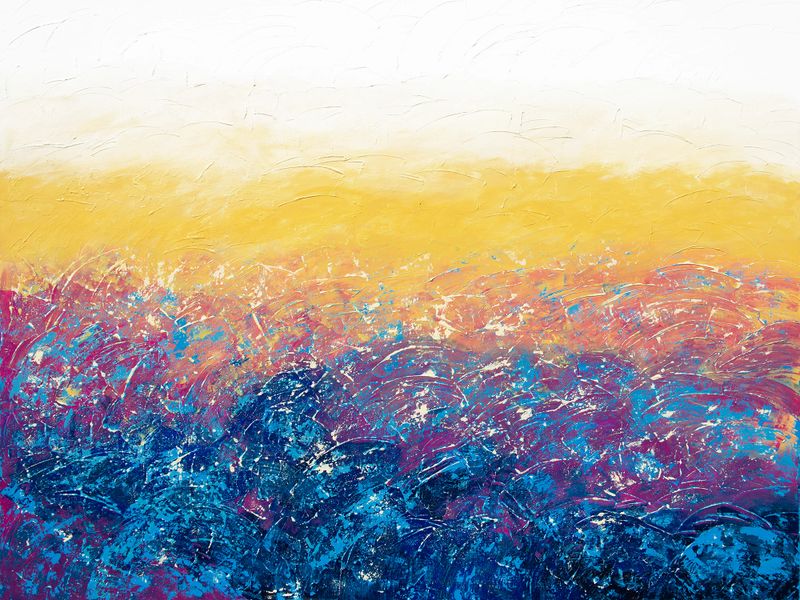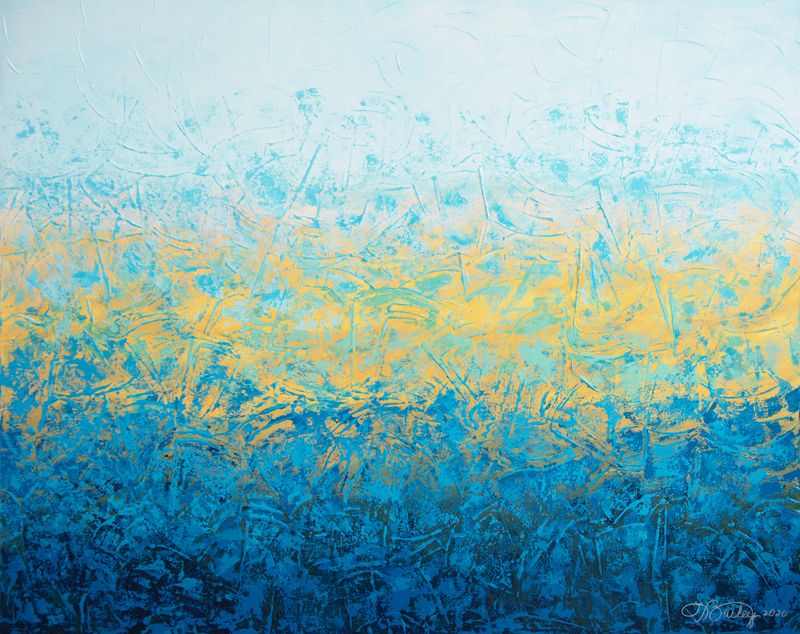 ---------------------------------------------------
May and June 2020
Working between my private off-site art studio and also in my art studio at home allowed me to create a tremendous amount of large size paintings. And although I had started this particular set in early April, it took until June to finish it.  Fast forward to 2021, and this painting was hung in Building 700 in RTP.  The connection here was from VentureX to the Senior Commercial Realtor for the Frontier office buildings in RTP. Yes, it did look great there!  But on June 1 2021 it was purchased by an art collector in San Francisco!  
---------------------------------------------------
April 2020
Being able to spend a little more time in the art studio has enabled me to do more personal reflecting. Of course, this translates to my artwork since my art is driven by motivation and passion. Now I'm realizing that energy is now the primary driver of my work. My true self paints colorful, large abstracts. "Why so many blue seascapes?" you ask. They seemed challenging at the time and I also wanted to paint calm art thinking it would make the rest of my world calm.  It did, to a certain extent.  But now that I'm having more time in the studio and want to create an entirely new body of work, ENERGY is the driving force.  Here we go - still on the easel. I've got a little more to do on this one, but I'm pretty happy with it so far.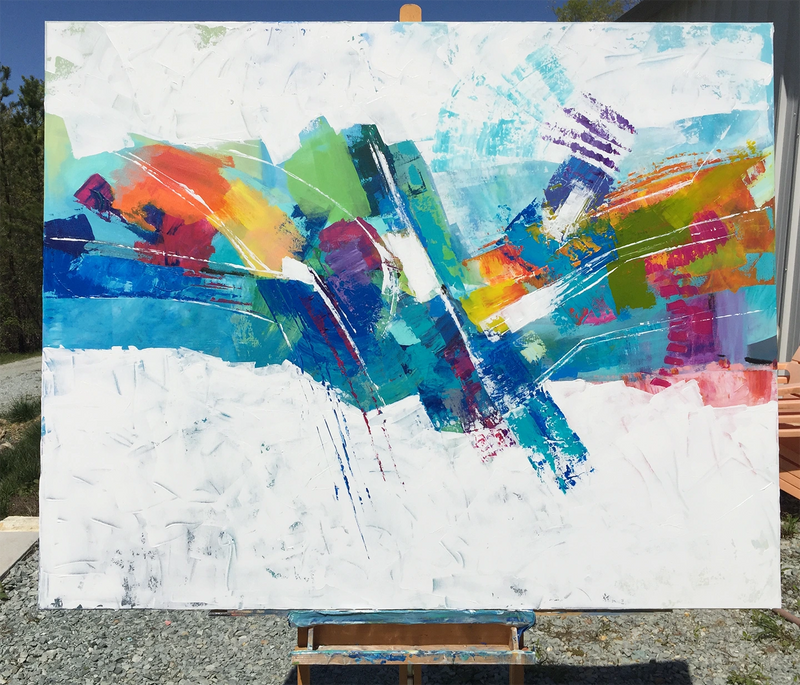 --------------------------------------------------------
March 2020
Scarves are selling well on my ShopVida.com site:  https://shopvida.com/collections/lindabailey   I think everybody is getting in the mood for Spring!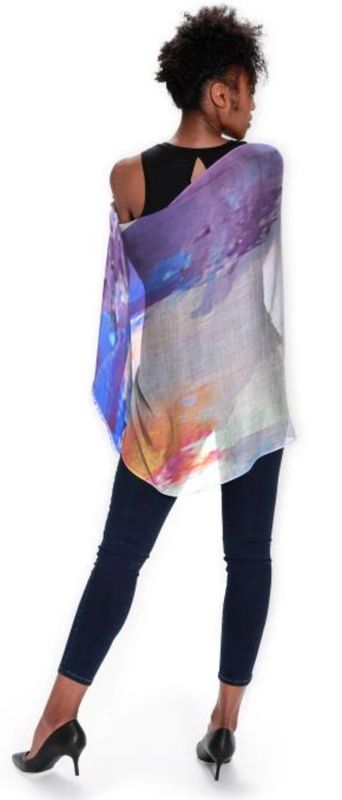 ------------------------------------------------
February 2020
New Bern Rebuild Center
New Bern, NC still has over 1400 homes to repair from damaged sustained during Hurricane Florence. This new Rebuild Center will house volunteers from surrounding states to work on these homes. Although the Rebuild Center has been open, upgrades to it were just recently completed. A Grand Opening was held February 29. Here I am working on a wall graphic which depicted the New Bern city crest being held in Jesus' hands. The last wall graphic I did before this was when I was 13 - this was really fun.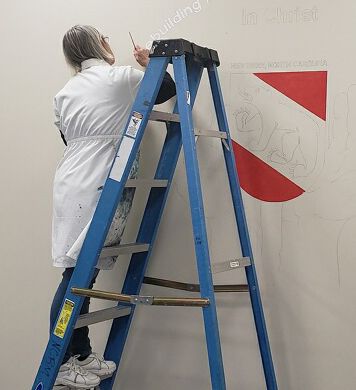 ------------------------------------------------
Women in Networking - New Leadership Team Announced
I've been in this Women in Networking group for a couple of years now and just love it. The purpose of the group is to provide referrals to each other in order to grow our businesses. And, yes, it works! This year I'm working as the Membership Coordinator. We're always looking to grow, and encourage professional women to come and visit our Chapter.
---------------------------------------------------------
Painting Donation to NC Diaper Bank
A member of my Women in Networking group, Carol Pinkasavage, requested silent auction donations for the NC Diaper Bank annual Gala and Fundraiser. Of course, I donated a painting! It is called 'After the Storm is Gone'. I was really happy to donate this piece to help raise funds to provide diapers to families in need.  Great cause! Can you imagine not being able to afford diapers for your baby?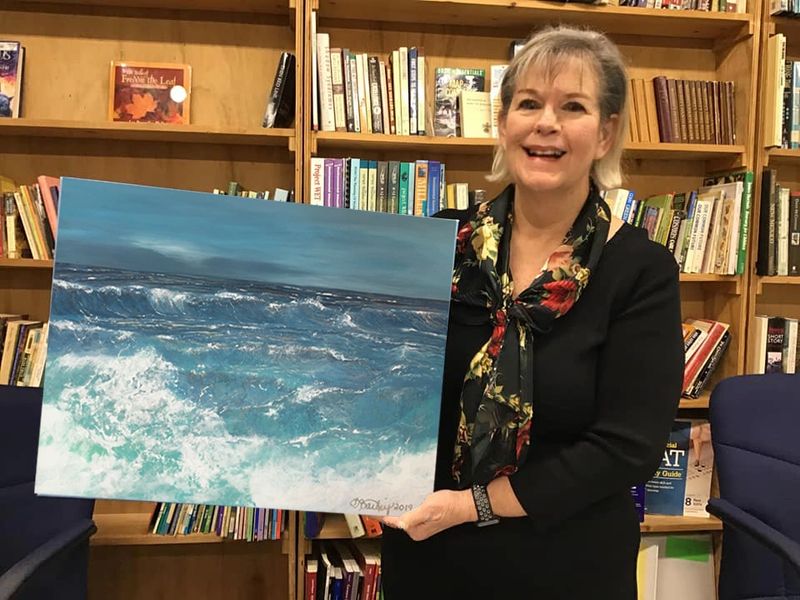 -------------------------------------------
January 2020
God answers prayers - and fast. I prayed that God would find a place for me to hang my art so people could see it. Same day he provided 22,000 sq ft of co-working/teleworking space for me to hang art.  My Women in Networking colleague, Laurice West, was the person making the connection for me to work with VentureX in RTP. This worked out so perfectly. The company didn't realize they were installing 'gallery lighting'.  Here are a few walls of my art on display.  And the office space is brand new, high end, flex space. Love going there!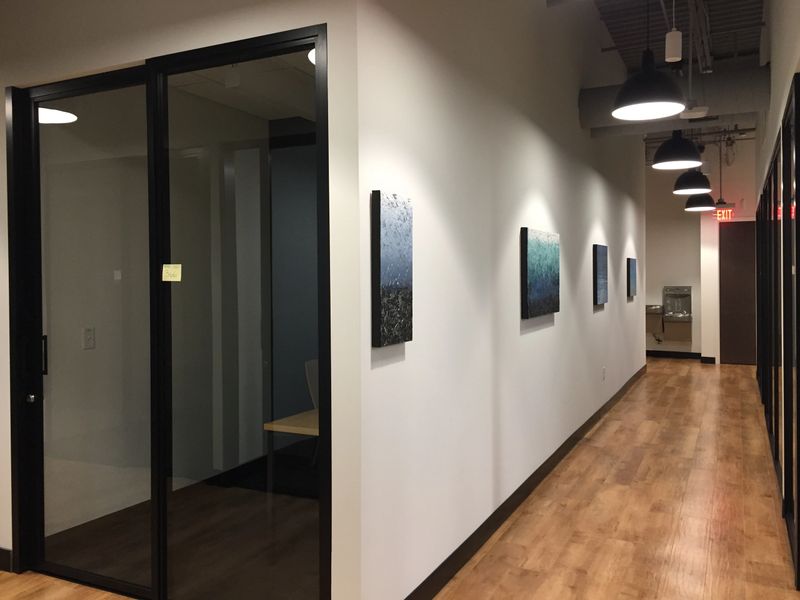 -----------------------------------------------------------
Wonderful News and Grand Opening!  See all my new products available on Shop Vida:  https://shopvida.com/collections/lindabailey
You'll find purses, jewelry, scarves...and soon to come yoga pants and tops, placemats.....all with my art!  Check it out!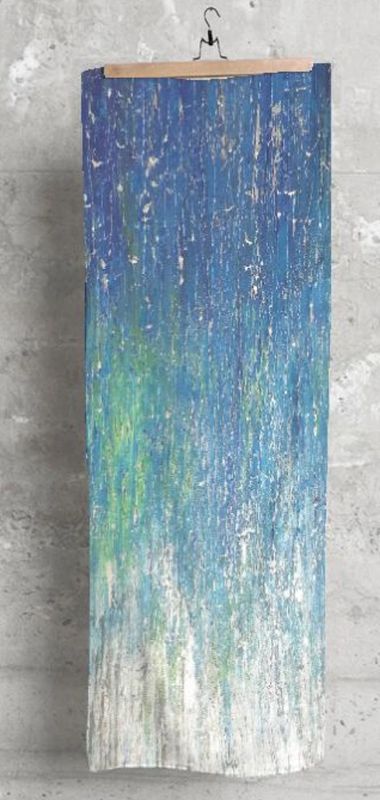 Thank you for visiting!
---------------------------------------
Update Monday, August 20, 2018

We all had a great time at Third Friday in Durham NC this past Friday!  Here I am talking about one of the fluid and flow works.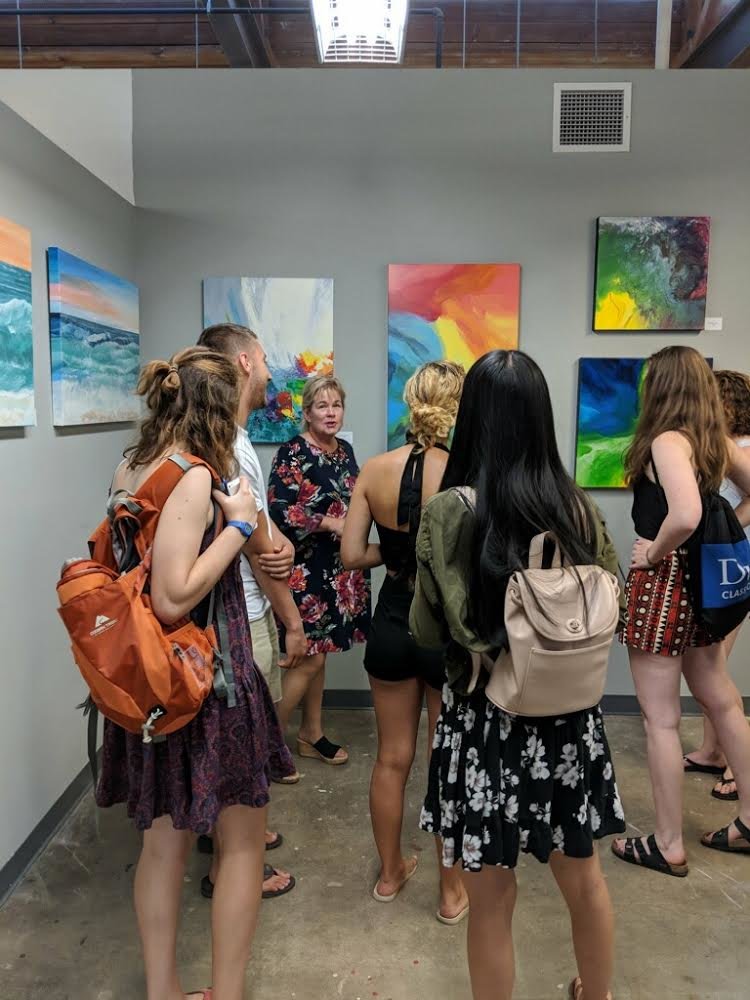 Update Wednesday, August 8, 2018
What an art-intensive week it has been!  I had a friend come over to work with me on watercolor - more on this next week! I also painted this new piece called Swiss Meadow.  The friend that came over said the painting reminded her of a Swiss meadow that she and her sister would frequent. I think the name is lovely. 
---------------------------------------
Update Saturday, August 4, 2018
Well, no picture to show, but I practiced videoing myself painting on a canvas. I see that a lot of artists start off by having video demonstrations of themselves painting works of art.  Ha! I realized I paint much slower than I thought. Gotta move a little faster or speed up the video speed.  More on this in the days to come!
---------------------------------------
Update Friday, August 3, 2018
Since I've been focusing more on seascapes and waves,  I've missed painting with bright colors and interesting layouts.  This one ought to brighten up a room. It's called 'Spirit in the Sky'.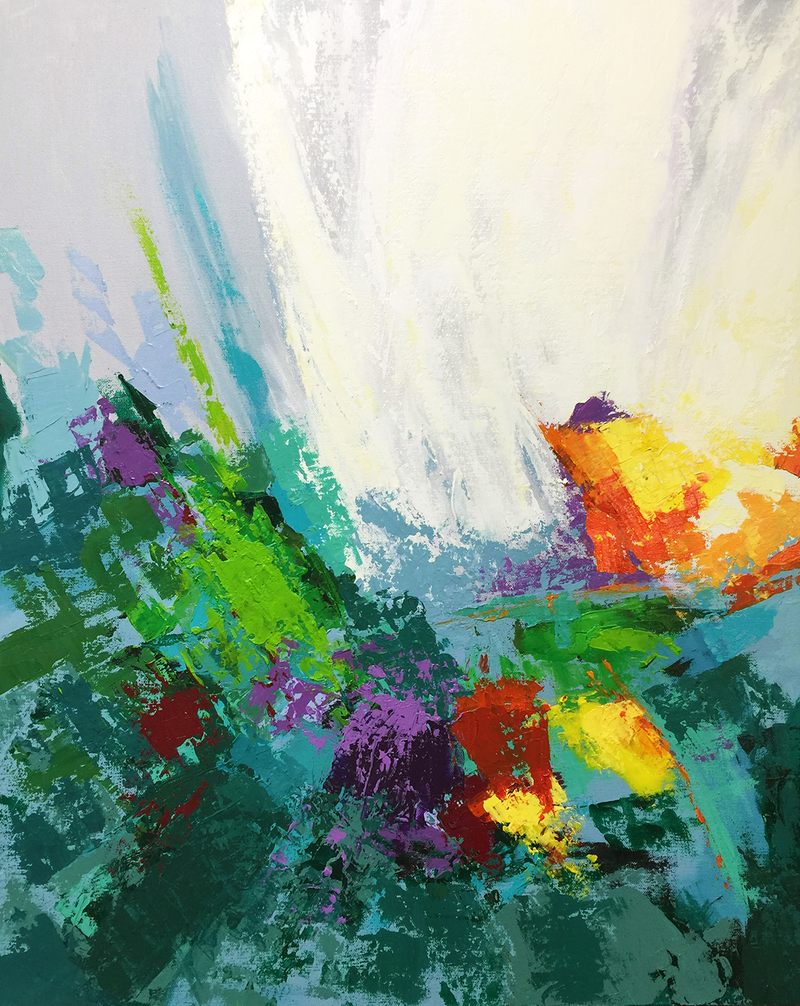 ---------------------------------------
Update Thursday, August 2, 2018 
I am gearing up to start a YouTube Channel teaching art online.  I have several reasons for wanting to do this. I do enjoy teaching others about my techniques, styles, color choices and so on.  I think it would help get new art created by people who really want to create their own work.  So watch for my upcoming channel!  Right now I'm checking out the best way to do this but want to get it rolling!  With the idea of getting a newbie painter up and running, I think I'll start with the easiest techniques and then build a video library of all the rest.  We won't be painting any ocean waves for a while, but they are certainly on the list. We'll start with something colorful and fairly easy to paint like this one.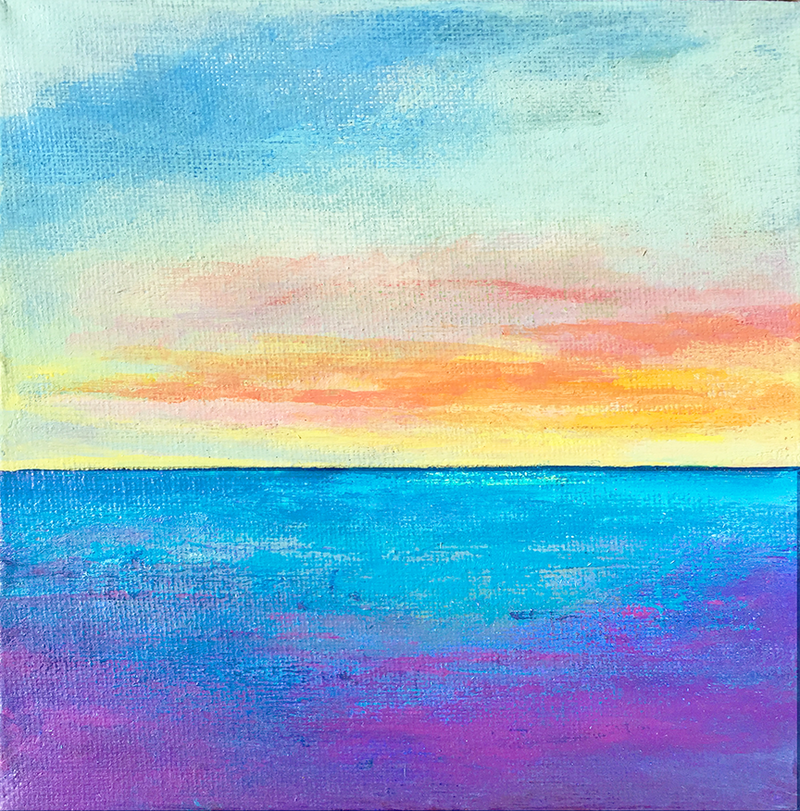 Update Wednesday, August 1, 2018
The Durham Art Guild (DAG) has a program that connects local businesses with artists.  Artists submit their work to DAG, DAG curates it, then they make the artwork available to local businesses for rent or for sale. To me, this is an organization that is doing a great service both to the artist and the business.  DAG presents the curated art to the business and helps them determine sizes, works in their budget and even installs the artwork. I think it is a wonderful program so I signed up for it today.  I submitted 10 of the ocean / wave paintings.  Looking forward to seeing where this goes!!!  This is one of the submitted paintings.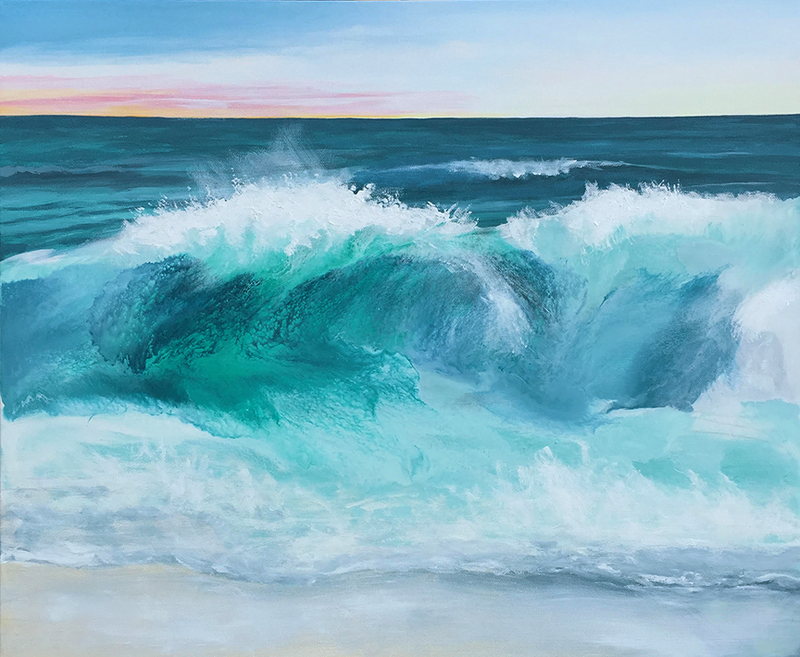 ---------------------------------------
Update Tuesday, July 31, 2018 PM
Yes, so much has happened since I last updated this blog. First and foremost, I have been very focused painting seascapes - lots of ocean waves, the beach, breaking waves and distant waves. What an experience!  I love getting photos of the ocean from my fans so that I can paint them. What a challenge!  All the completed ocean paintings are posted here on the website.  Here are a couple close ups.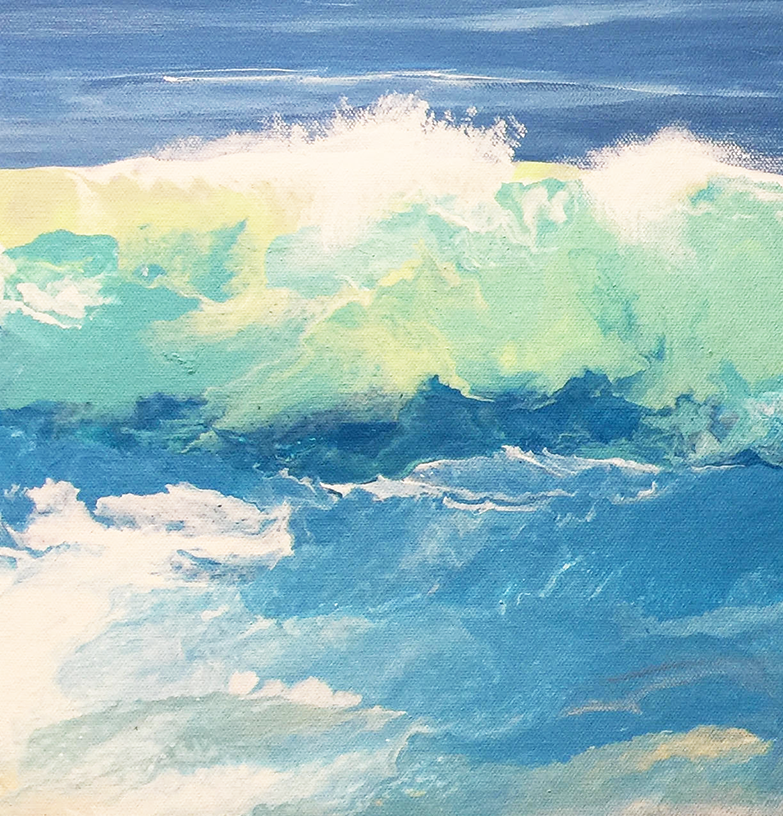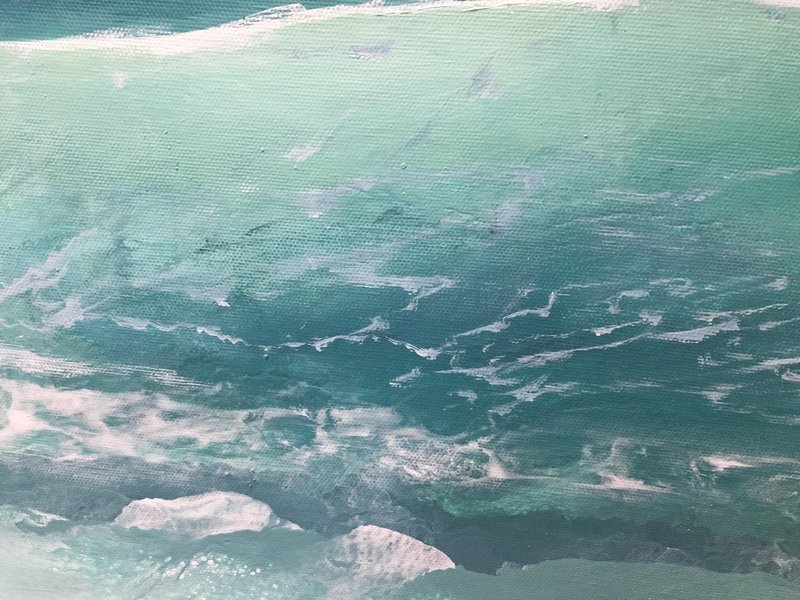 -------------------------------
Update Tuesday, February 6, 2018 PM
Education: This month I am focusing a lot on education and social media. These two areas of focus are definitely related because being successful in the social media (SM) realm requires almost an ongoing effort of learning how these social media platforms work and how best to use them.  Why do I feel it is an ongoing effort?  Because algorithms change, audience behaviors are better analyzed over time, etc.  This may sound like blah, blah, blah, but it really is true. 
With so many people on Instagram, for instance, how do I spend my time effectively knowing I am reaching the people who may be interested in my artwork?  I'd rather be painting than researching how the new algorithm is going to affect me, or how my Instagram home page is going to influence potential buyers....but wait!  There is help!  There are a lot of free webinars out there that provide valuable information on how best to utilize SM. No matter what you are selling or communicating -- these webinars are very helpful across all industries. 

Here are two in case you are interested:  
https://www.facebook.com/DeanStreetSociety - Hilary Rushford provides a proliferating facebook page of business interest information. (I started with her webinar on Instagram and now look forward to hearing about her many other insights on growing, changing, enhancing and otherwise energizing my business). 

Hootsuite's 'Social media trends to put into practice in 2018' - Another great webinar! 
Okay...back to painting!   This one was posted to my Vango Art page yesterday, www.vangoart.co/lindabailey: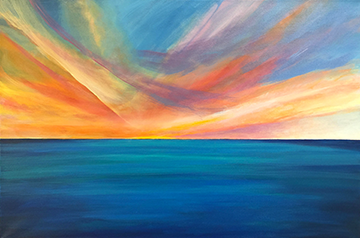 ----------------------------------------
Update Monday, January 22, 2018 AM
Wow!  The Third Friday Durham event at Golden Belt went on as planned even though our city was still trying to dig out from about 10" of snow. We had several guest pop-up artists plus several regular tenant artists - painters, metal smiths, woodworkers, etc -  exhibit their artwork. Many were creating during the show so that visitors could see how the artist works.  It was great fun. I had not displayed my work there since last July, so it was wonderful to catch up with my regular visitors. New folks were also on hand and it was interesting to meet and learn about them and answer their questions about my art. 
This art exhibit is a very good example of how my creations are influenced by scripture. More about this...
Finding inspiration -  For this recent art exhibit, I displayed two bodies of work. The first body of work, 'Love One Another' was definitely completely influenced by scripture - below are several.  Of course, hearts can convey all types of love but mostly I am painting about agape love - that type of enduring love that expects nothing in return.  Here is an example - This painting is simple, but with the name, 'Love Comforts' I visualize a calm, comforting, 'I'm always there for you' type of love.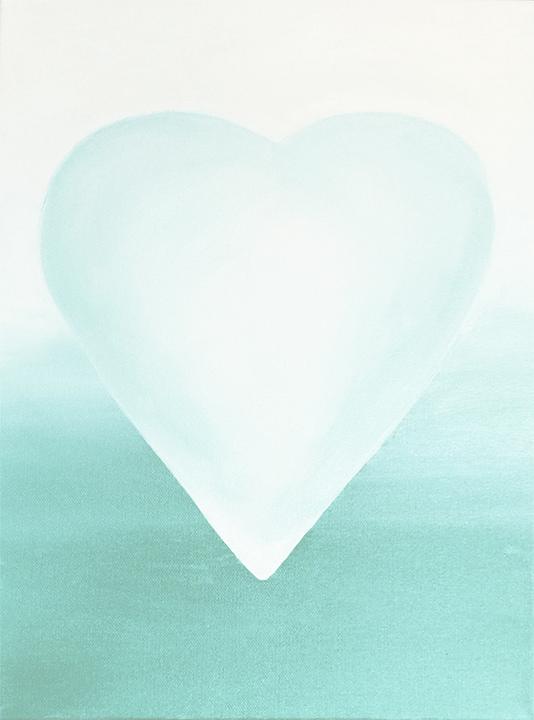 Leviticus 19:18 Do not take revenge on others or continue to hate them, but love your neighbors as you love yourself. I am the Lord. 
John 13:34 And now I give you a new commandment: love one another. As I have loved you, so you must love one another. 
Romans 13:8 Be under obligation to no one—the only obligation you have is to love one another. Whoever does this has obeyed the Law. 
1 Corinthians 16:14 Do all your work in love. 
Ephesians 4:2-3 Be always humble, gentle, and patient. Show your love by being tolerant with one another. Do your best to preserve the unity which the Spirit gives by means of the peace that binds you together. 
1 Peter 4:8 Above everything, love one another earnestly, because love covers over many sins. 
1 Peter 3:8-9 To conclude: you must all have the same attitude and the same feelings; love one another, and be kind and humble with one another. Do not pay back evil with evil or cursing with cursing; instead, pay back with a blessing, because a blessing is what God promised to give you when he called you. 
1 John 3:11 The message you heard from the very beginning is this: we must love one another. 
1 John 3:18 My children, our love should not be just words and talk; it must be true love, which shows itself in action. 
1 John 4:12-13 No one has ever seen God, but if we love one another, God lives in union with us, and his love is made perfect in us. We are sure that we live in union with God and that he lives in union with us, because he has given us his Spirit. 
Have a Wonderful Day! 

--------------------------------------------------------
Update Wednesday, January 17, 2018 PM
I've been working hard getting final paintings ready to be included in the Third Friday Durham show this coming Friday, January 19.  I got them finished and went ahead and installed all the paintings yesterday which was Tuesday, at the Golden Belt Artist Studios. We are having a snow storm today - began this morning and we are expecting up to 6 inches of snow. So, my paintings are ready for the Third Friday Durham event. I'm must hoping and praying that the wonderful people of Durham will be out from all the snow related hurdles so they can  make it to Golden Belt on Friday night.  Here is a pic of one of the paintings from the 'Peace Be With You' body of work. It is called, 'Blessings Flowing Like a Waterfall'.....I'll continue with the 'Finding Inspiration' series tomorrow!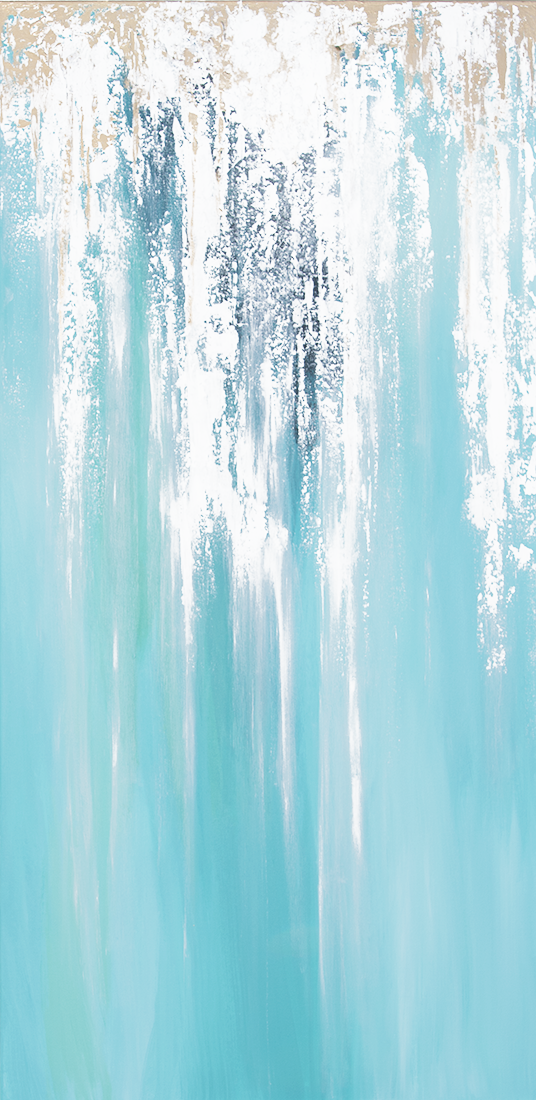 ---------------------------------------
Update January 11, 2018 AM

Finding inspiration - To continue with the explanation of what inspires me to paint, today I'll cover how songs play a role in a successful painting.  For me, mood and attitude are often driven or at least affected by the music I listen to. I was really introduced to this concept in the 6th grade, when a teacher had us draw while listening to music. I was spell bound by the very idea that what I created was very much influenced by the music!  Oh, what we learn as children!  So fast forward to today and I can tell you that when I listen to a song like 'Amazing Grace', a variety of images come to light. I visualize God in all his hugeness and awesomeness sending doves down from heaven and other larger than life images that I would find challenging (as a skill level for me right now) to paint. But these visualizations also lend themselves to the very exercise of thinking of other images that put into art what the phrases in the song may mean to me on a personal level. For example, the phrase 'how sweet the sound' immediately made me think of how waves sound rolling into a shoreline. At this point, I knew I wanted to paint something that would speak to that phrase.  I've posted a few examples here of paintings that were inspired by songs or by a specific phrase in a song.  This first painting is called 'How Sweet The Sound'. Second painting is 'When I In Awesome Wonder' and the third painting is called 'When Peace Like a River'.  Try listening to some of your favorite songs, close your eyes, and let your mind wander! Happy Painting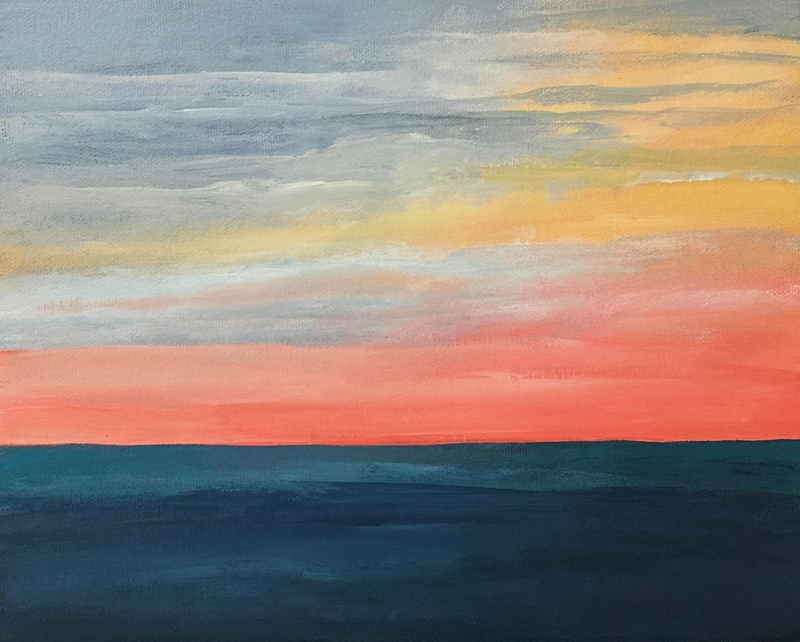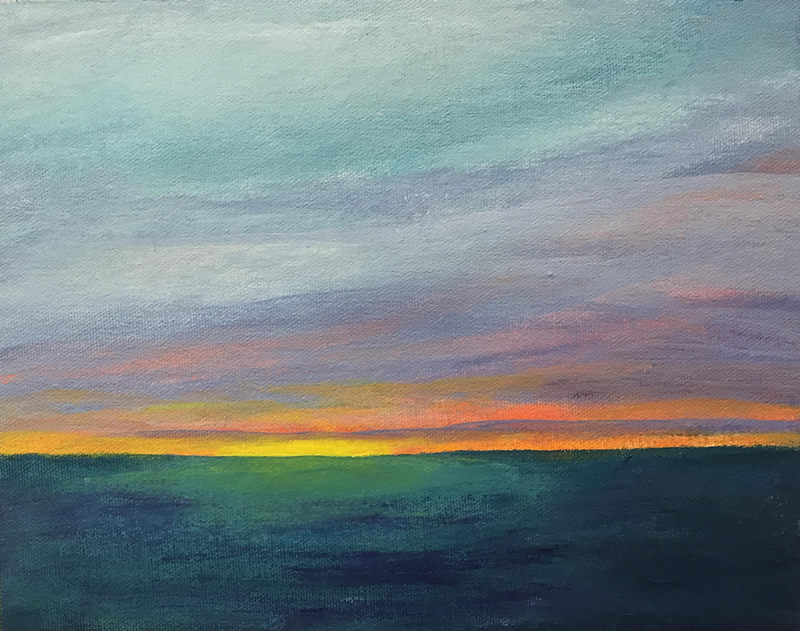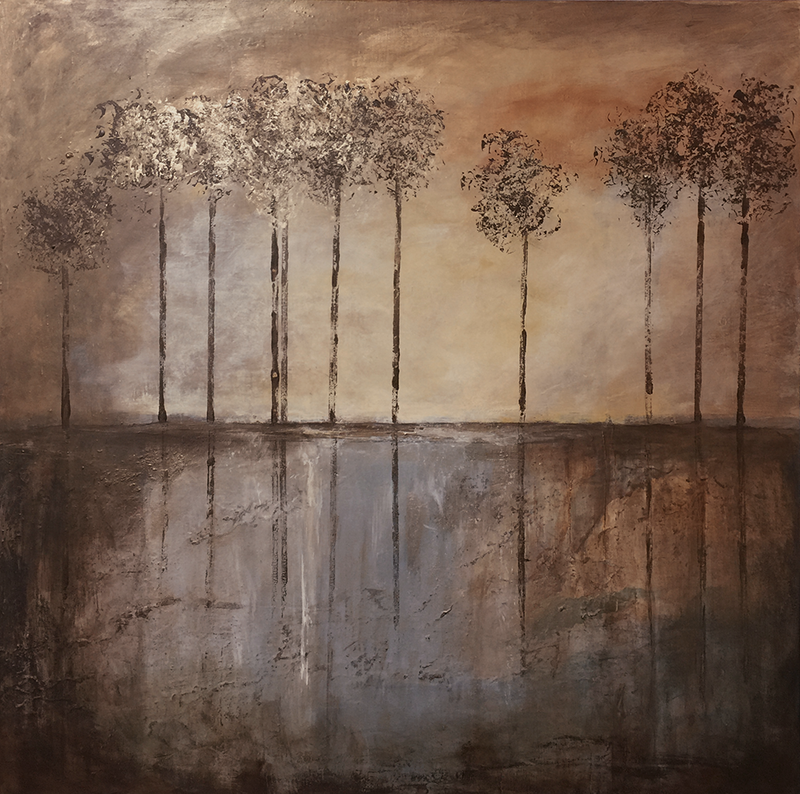 ---------------------------------------
Update January 10, 2018 AM
Finding inspiration - I'm continually asked how I find inspiration and even how I stay inspired to paint. I'm inspired 3 ways: from scripture, from songs and from being outside.  Today, I'll explain more about being inspired just by being outside.  After spending so many years working in an office, my desire to be outside grew tremendously. I looked forward to doing anything outside like taking a walk, hiking, mowing the lawn. If it involved being outside, I wanted to do that.  Now that I am an artist and the owner of my own business, I do spend a lot more time enjoying the great outdoors. But how I am inspired by that?  It may sound like a cliche, but I started paying more attention to the beauty in nature, even to the point of searching for that beauty. Yes, it takes a little time, but the variety of images are almost unbelievable.  As an example, the fact that a rock can not only have a variety of textures, but also design and color, was almost like discovering another world. Here are some rock face images. I think they are amazing. And how do I apply them in my art?  Besides using them as guides for lighting and composition, I sometimes will include detail from the rock photo into my artwork.  Beauty in nature - definitely an inspiration!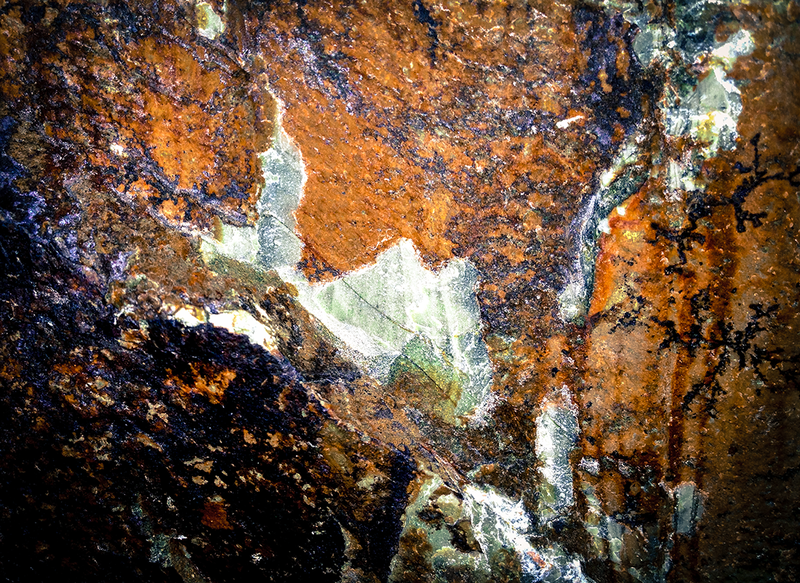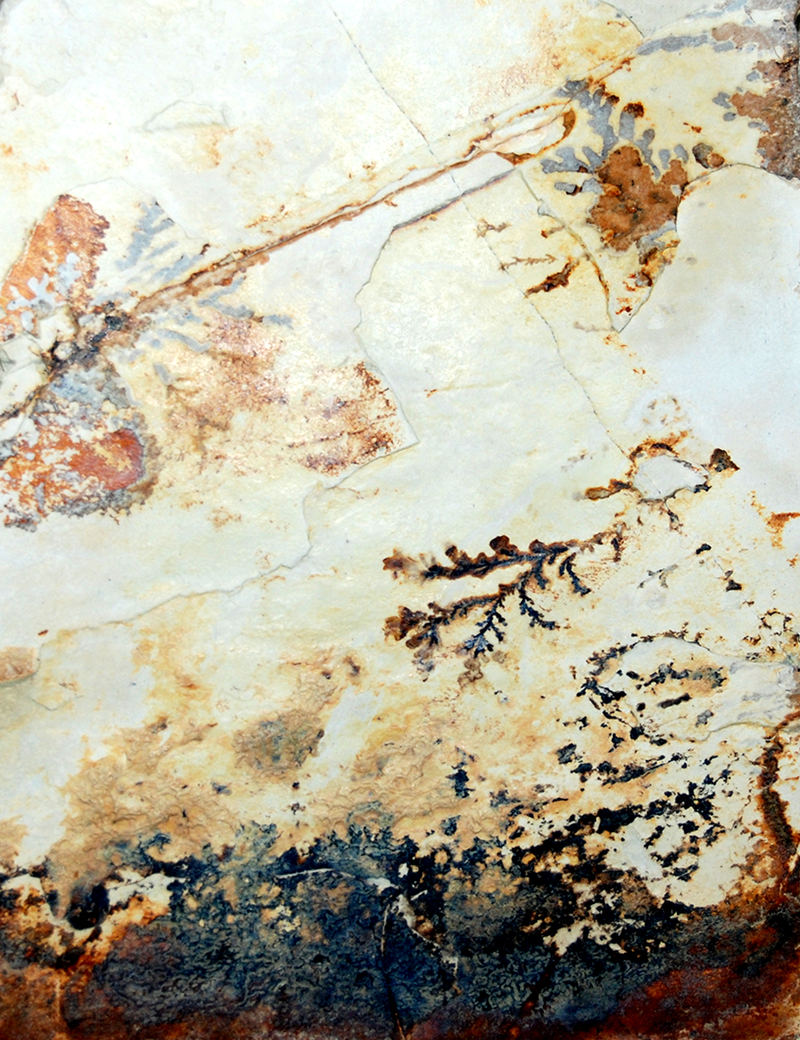 -------------------------------------
Update January 9, 2018 AM
I've been working very diligently on new work for both the 'Love One Another' and 'Peace Be With You' bodies of work. While work for 'Love One Another' will include all types of colorful hearts and other abstracted shapes joining together, 'Peace Be With You' pieces will be more serene and calm. The 'Peace Be With You' work is really an eclectic body of both abstract peaceful scenes and art that is leaning towards being more photo-realistic. This is a good example of an abstract peaceful scene. It's called Lake Travis. You can learn more about it here: https://www.vangoart.co/lindabailey/lake-travis; and see it in person at Golden Belt Artist Studios January 19 6:00 PM - 9:00 PM.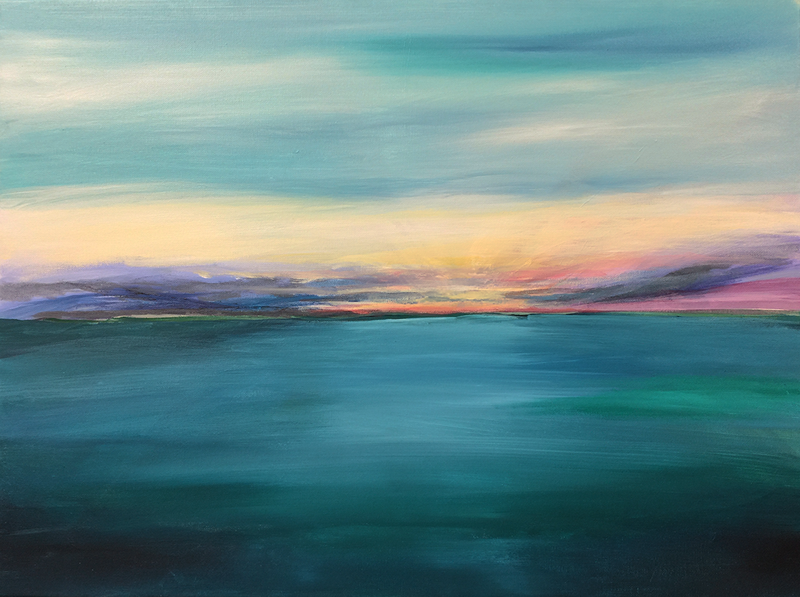 -------------------------------------
Update January 8, 2018 AM
So excited to be invited to Third Friday Durham at Golden Belt! 
I'll be rolling out two new bodies of work: 'Love One Another' and 'Peace Be With You'.  
Hope to see you at Golden Belt Bldg # 3 807 E Main Street, Durham NC    January 19, 2018 6:00 PM to 9:00 PM  
Lots of artists there with new work, a featured artist in Room 100 and lots of great conversation.  
Location and Directions:  http://www.goldenbeltarts.com/about/location-directions/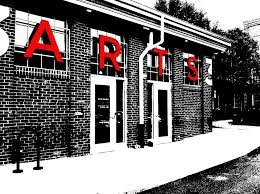 -------------------------------------
Update January 5, 2018 AM
A sunny but still very chilly day ahead with a forecasted high of 29, so it's another great day to paint inside!  My new body of work,  'Love One Another', continues to grow. This new painting has been added to the collection. It's called 'Color Me Loved'.  You can find it here on the Vangoart website:  https://www.vangoart.co/lindabailey/color-me-loved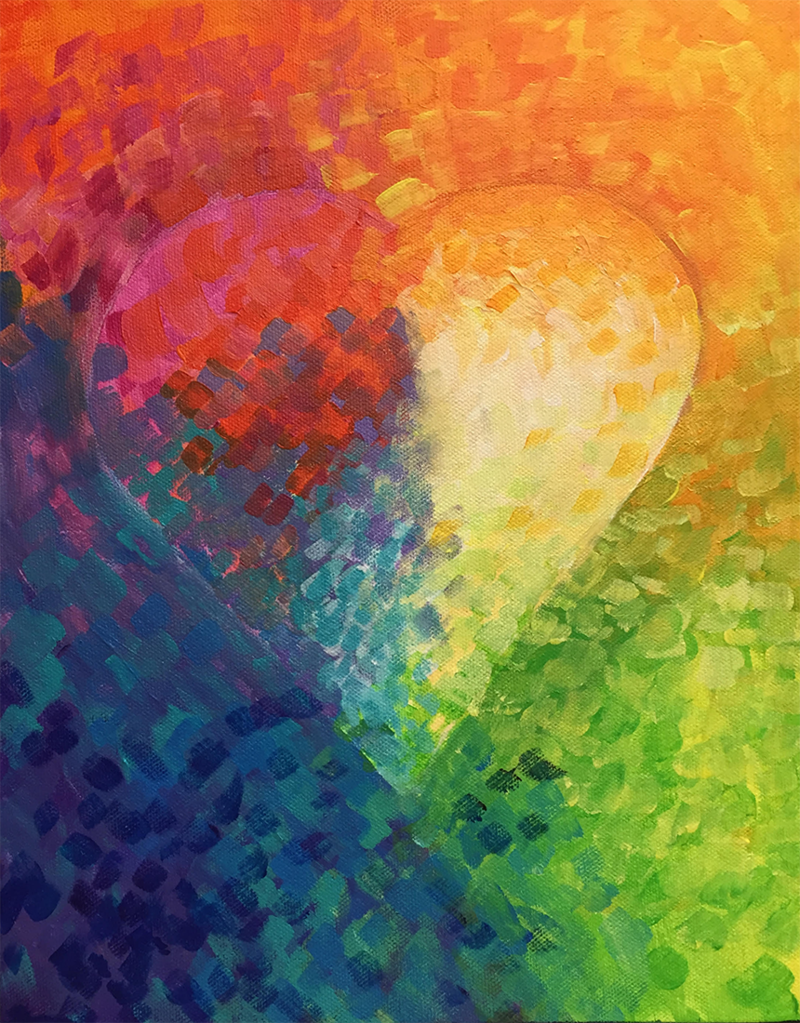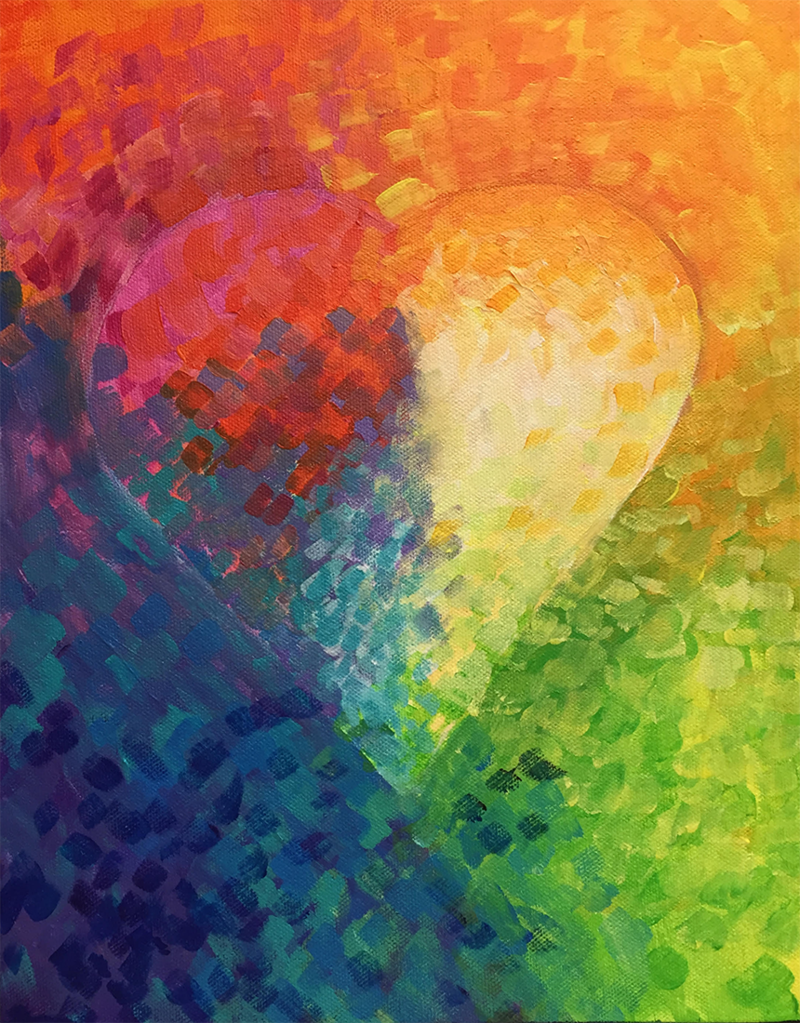 -------------------------------------

Update January 4, 2018 PM
Ah, the new year!  A time to start fresh, start new, re-purpose the old, change what's not working, and enhance what is. Oh, and start a new body of work to be completed by the January 19th art show at Golden Belt Artists Studios! Yes, let's talk about that new body of work. It's called 'Love One Another'.  I'm not an activist, or necessarily any type of leader, but I do feel strongly about loving one another. It seems so simple but proves to be an extremely difficult command to communicate. Yes, it's a command. We can wish love on one another, we can hope we love each other, we can pray about it, we can talk about it, we can write about it. But the most important thing to remember is that God commanded it. Love One Another.  'Spiritual Love' is an abstract heart painting conveying eternal love. Here it is.  
I have it for sale on the VangoArt site https://www.vangoart.co/lindabailey/spiritual-love. 
You can also see it in person on January 19th at Golden Belt Studios 807 E Main Street, Durham NC 27701.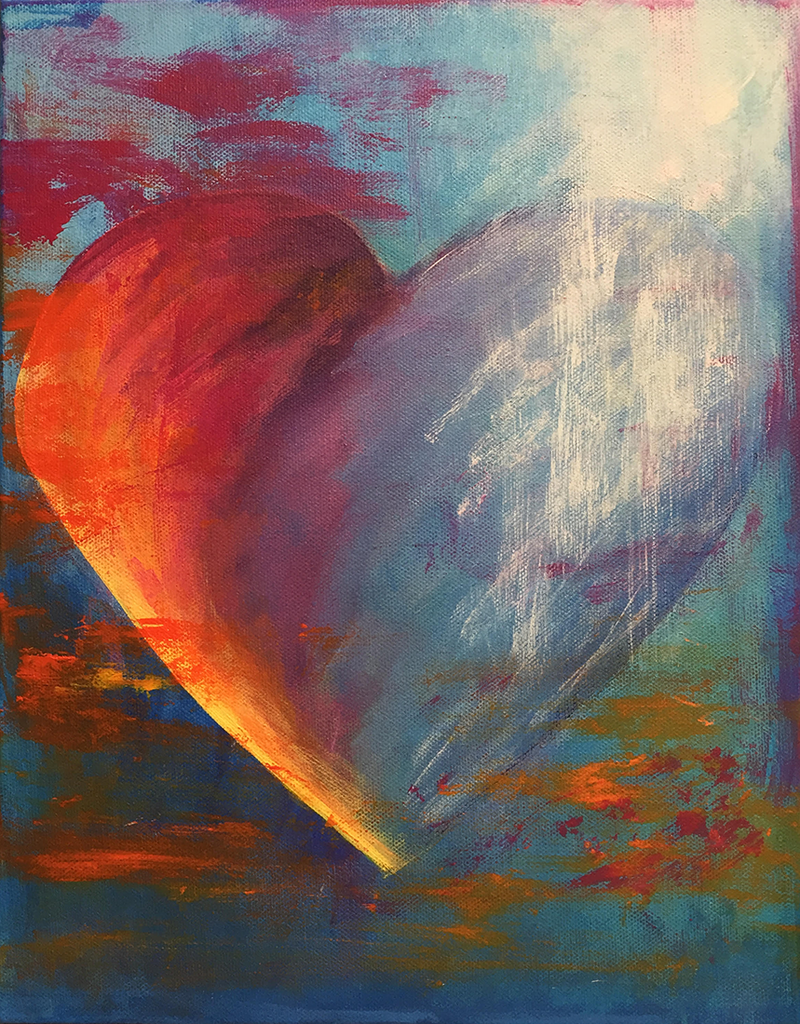 ----------------------------------------
Update August 7, 2017 AM
Busy year!  I really ramped up my selling on the VangoArt website, worked to get more involved with the Durham Art Guild, got much more involved with my church, worked more in my art studio up on the hill, committed (to myself) to spend more time exercising, created jewelry, and worked to get established as a Native American artist.  All of that resulted in too many priorities heading toward a collision!  ....Just being real here...even having way too many good things to do can end up badly. I had to realign my priorities, work on the time management and also seriously look at the financial cost of involving myself and committing.  Anyway!  Here is my new resume which includes my Native American status:
Linda Bailey
Durham, NC
225.241.2526
lindabailey@abstractartbylinda.com
Linda Bailey is a Durham, NC self-taught artist best known for her large-size original abstract and contemporary paintings.  Her paintings are categorized on her website in these styles: Textural and Pure Abstracts, Fluid and Flow, Landscapes, Seascapes, and Florals.  Linda has donated her artwork to raise money for a Children's Home in Oxford, NC, and for Freedom Global, an organization that creates sustainable solutions to alleviating poverty in countries around the globe.  Linda's art is also featured in the Corporate World – Washington, DC; Bel Air, MD; Baton Rouge, LA; and Morrisville, NC, but most of her work is enjoyed in the homes of her art collectors.
Artist Statement
Being able to visually express my feelings, thoughts and passions onto a canvas is the fulfillment of my personal calling. For the last few years, I have enjoyed creating hundreds of paintings in a variety of techniques, textures and color palettes.  I enjoy painting with acrylic colors on large sized canvases and hardwood panels and using paintbrushes, palette knives and variety of other tools to get the texture and effect I am looking to create. Most of my paintings and ideas are inspired by being outside, inspired by songs, and inspired by scripture. This inspiration is well emphasized by the titles I give my art.  My God-given desire, talent and enthusiasm in creating abstracts in my design studio has truly been a blessing. But also important to me is to share my art with friends, family and anyone who truly takes an interest in a piece.  Art is to be shared and to let someone else call it their own. 
As I grow as an artist, I am working to include my heritage into my art. Although this road to creating my first body of work exemplifying my family's history is just beginning, I do recognize myself as being a certified Native American and a Member of the Choctaw Nation of Oklahoma. I support the Vision Statement, Mission Statement and symbols detailed in the Choctaw Nation Great Seal and look forward to creating art that will include these ideals in a visual platform. 

Vision Statement: Living out the Chahta spirit of faith, family and culture.
Mission Statement: To the Choctaw proud, ours is the sovereign nation offering opportunities for growth and prosperity.
Choctaw Nation Great Seal:  An unstrung bow, encompassing three arrows and a smoking pipe-hatchet, symbolizes history and tradition of the Choctaw Indians.
Shows and Exhibitions

·       2008 River Road Art Show - Baton Rouge LA
·       2013 Scapes Juried Show - Durham NC
·       2013 New Perspectives of the Unordinary - Durham NC
·       2014 Side Trip/Journey: Celebrating Life Juried Show at Tipping Paint Gallery– Raleigh, NC
·       2014 & 2015 20th Annual Sweet Arts Auction &Fundraiser - Durham NC
·       2015 – 2016 Exhibit at Truly Free Restaurant – Baton Rouge, LA
·       2016 Swing Into Spring - Auction & Fundraiser - Durham NC
·       2016 Member Showcase Durham Art Guild - Durham NC
·       2017 Swing Into Spring - Auction & Fundraiser - Durham NC
·       2017 Member Showcase Durham Art Guild - Durham NC
·       2016, August thru July 2017 – Monthly Third Friday Durham Art exhibits feature my paintings.
Websites and Social Media

·       Vango Art:  www.vangoart.co/lindabailey
·       Abstract Art by Linda:  www.Abstractartbylinda.com
·       Fine Art America for prints and products of my designs: www.lindabailey.pixels.com
·       Facebook Art Page: www.facebook.com/LindaBaileyArt
·       Pinterest: www.pinterest.com/lindadbailey
·       Twitter: https://twitter.com/lindab27
·       Instagram:  https://www.instagram.com/ldbailey027/
·       Etsy: https://www.etsy.com/shop/LindaBaileyArt
·       Saatchi Art: https://www.saatchiart.com/Linda.Bailey
·       Ebay: http://www.ebay.com/usr/vangoart (Vango Art is distributor)
·       Houzz: https://www.houzz.com/photos/products/query/linda-bailey/nqrwns
·       Art Finder:  https://www.artfinder.com/linda-bailey-art#/
Update January 30, 2017 PM
Check out my new hobby! I'm creating 'wearable art' in the form of necklaces that are inspired by my own abstract art. I think they're kinda cool!  www.etsy.com/shop/lindabaileyart
I have a handful of pieces uploaded so check back often since I'm uploading new 'wearable art' every day.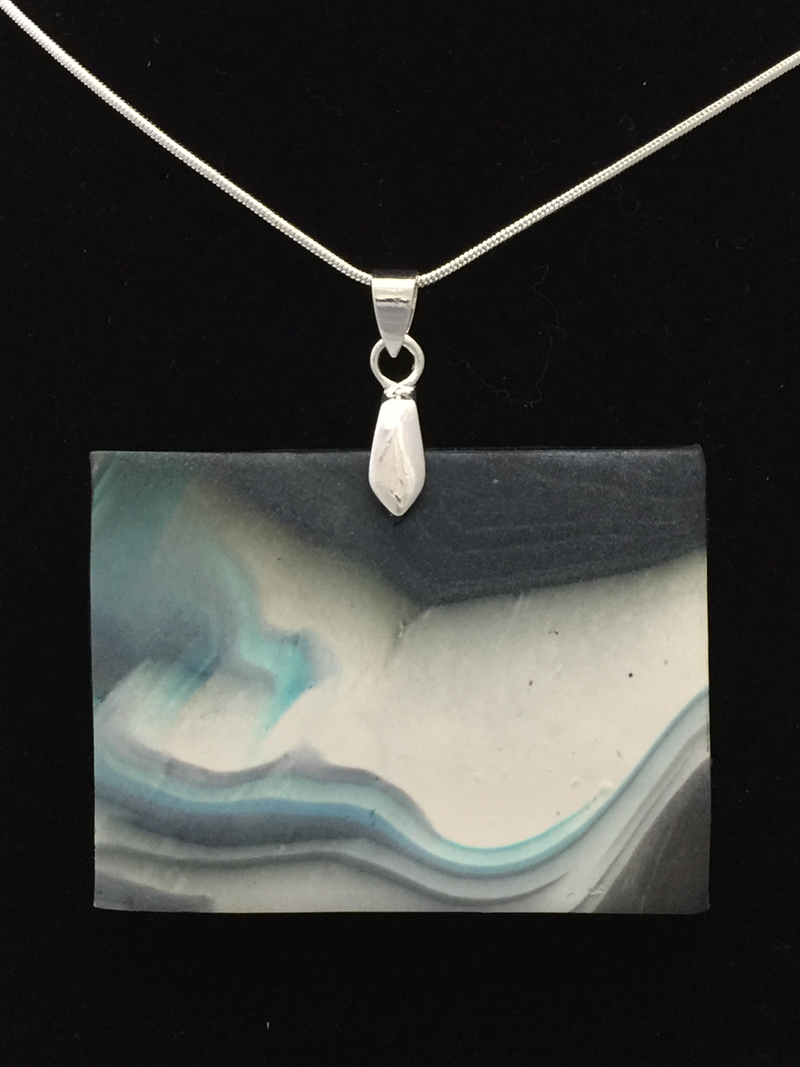 Update January 19, 2017 PM
Tomorrow night from 6:00 PM - 9:00 PM is Third Friday Durham at my Gallery & Studio located at 807 E. Main Street, in downtown Durham.  Everyone is welcome so please come by!                                           Our theme is:  Crazy Little Thing Called Love!  What you will see: lots of new art, new artists, and I'll be featuring some artsy necklaces that I've designed just for this event.  I hope to see you there!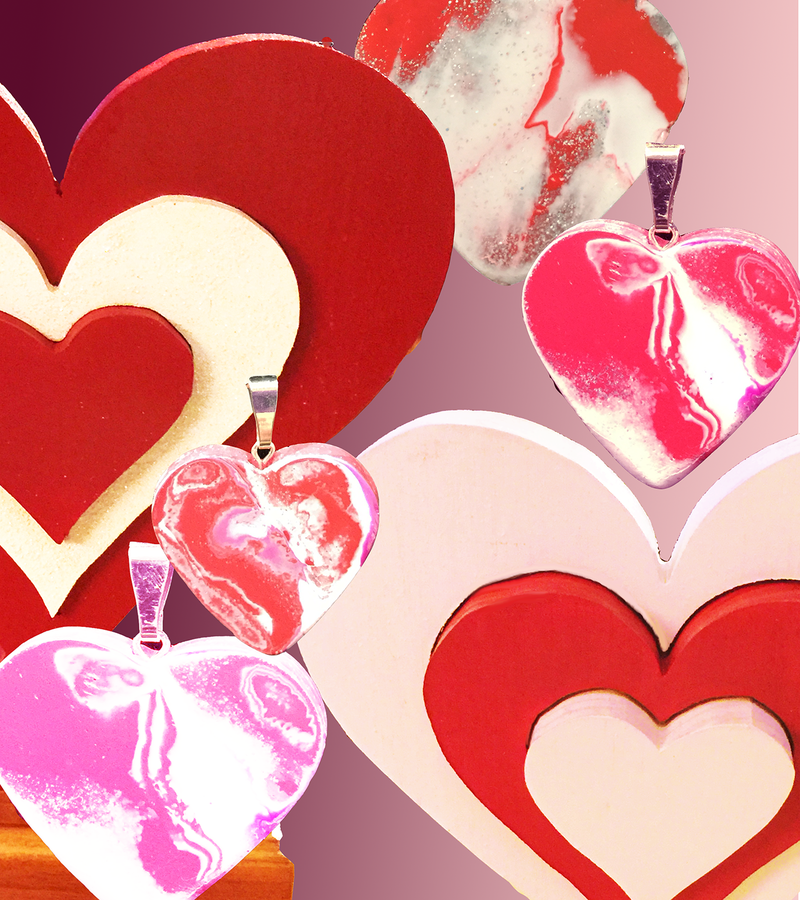 Update January 13, 2017 AM
So, what's been happening around here?  The CD and CD cover for my friend, Rene' Couch was produced and distributed. What a fun project!  Here is the final CD cover design I created for him: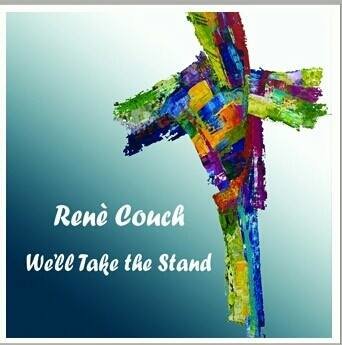 Update: September 30, 2016 PM
September has been busy! Besides regular sales and a commission painting, I had the opportunity to create a CD cover for a singer/song writer friend, Rene' Couch.  Thank goodness for PhotoShop which makes it so easy to create and change layers to put it all together. All the graphics have gone to the printer and the CD is being produced as I write this. For the main graphic, Rene' wanted to use a painting that he purchased from me called 'Come Together'.  I've included a picture of that original painting here.  I'll show you the final cover when we get it back from the printer!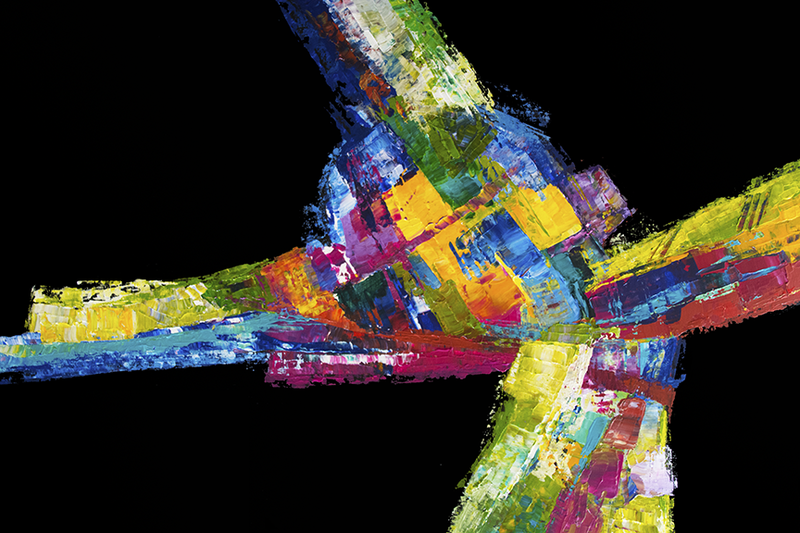 ---------------------------------------
Update: August 23, 2016 AM
The Grand Opening Celebration, which was held in conjunction with Durham Third Friday, was a huge success!  I really appreciate all those who came out to support me and all of the artists here at Golden Belt Arts. We had a great crowd for August, which historically has been a fairly lightly attended month in years past. My paintings, which are inspired by Scripture, song titles, and just being outside, were viewed by over 50 people. 
So, what's coming up in the future? Every month I'll have new paintings debuting for the Durham Third Friday event, so I hope to see everyone back again - please bring your friends!  Here are the dates and what I will be debuting:
September 16    BIG Art
October 21         Earth Tones and Metallics
November 18     Art Gifts starting at $15
December 16     More Art Gifts starting at $15
Photos from the Grand Opening!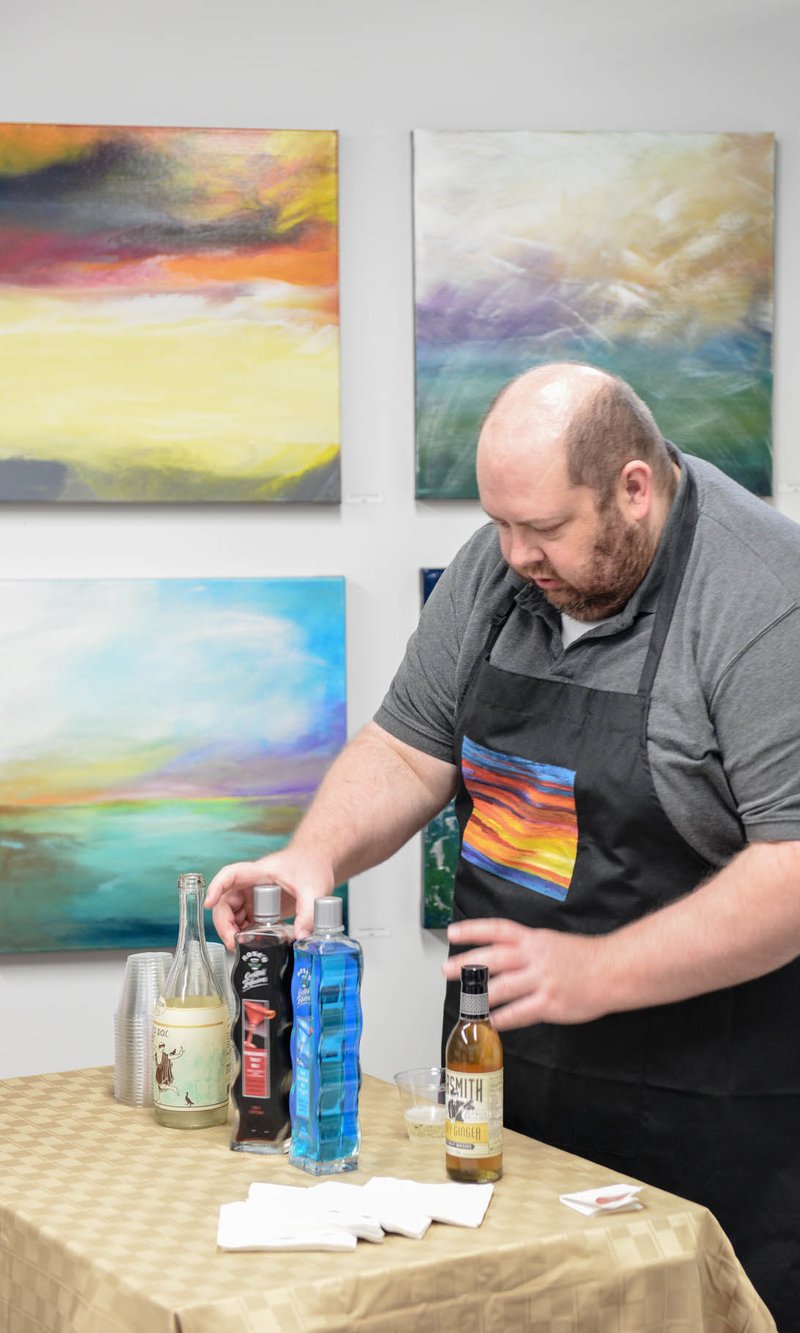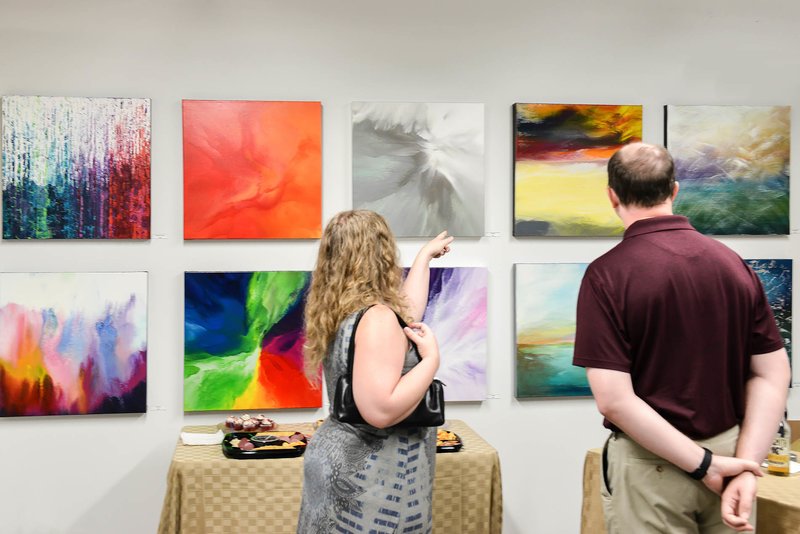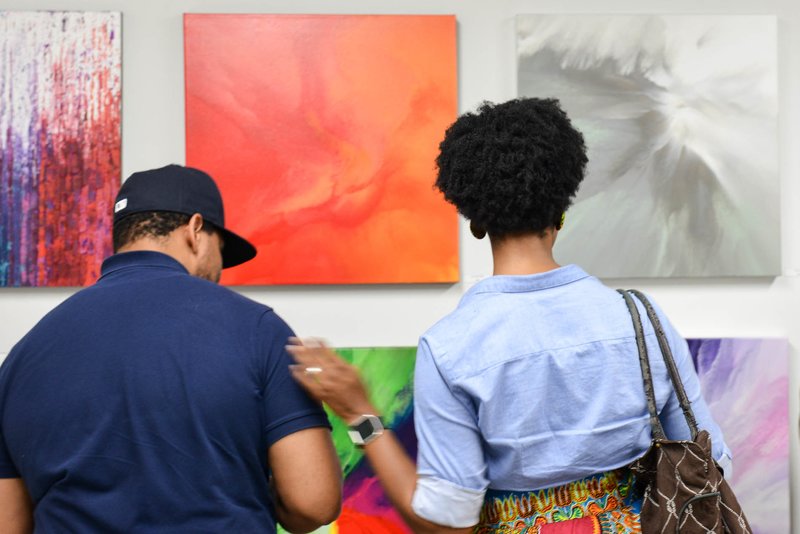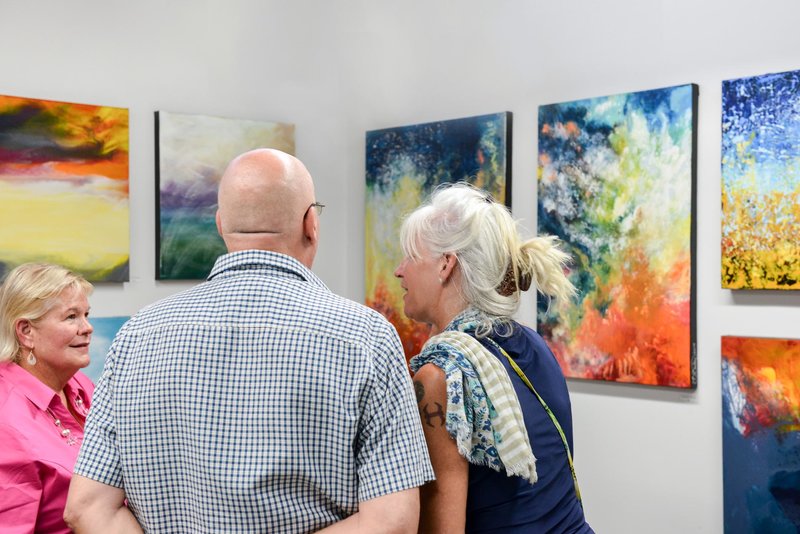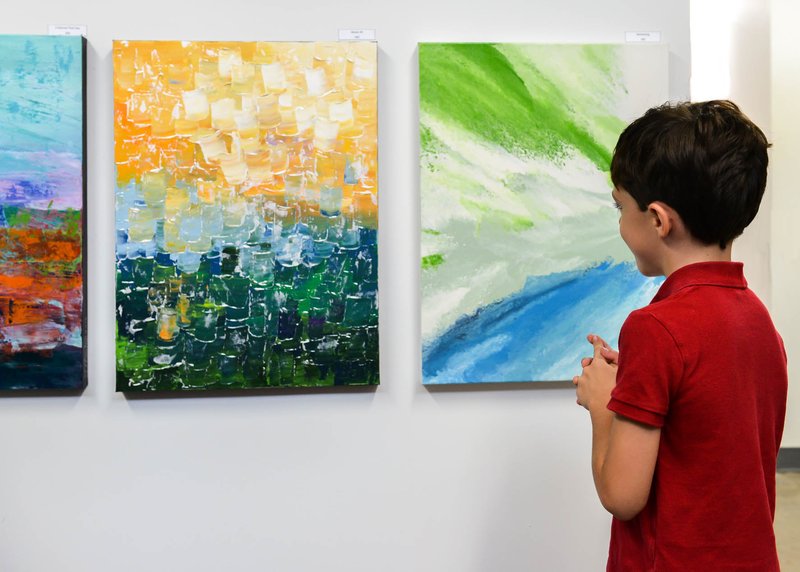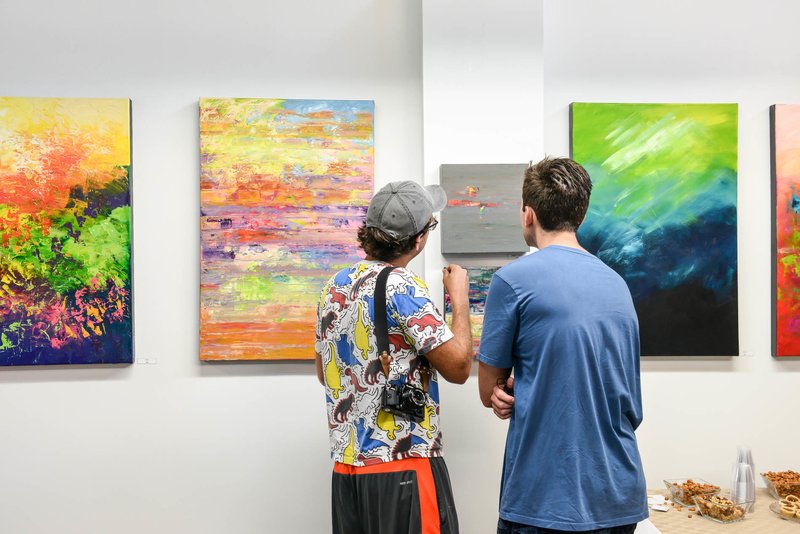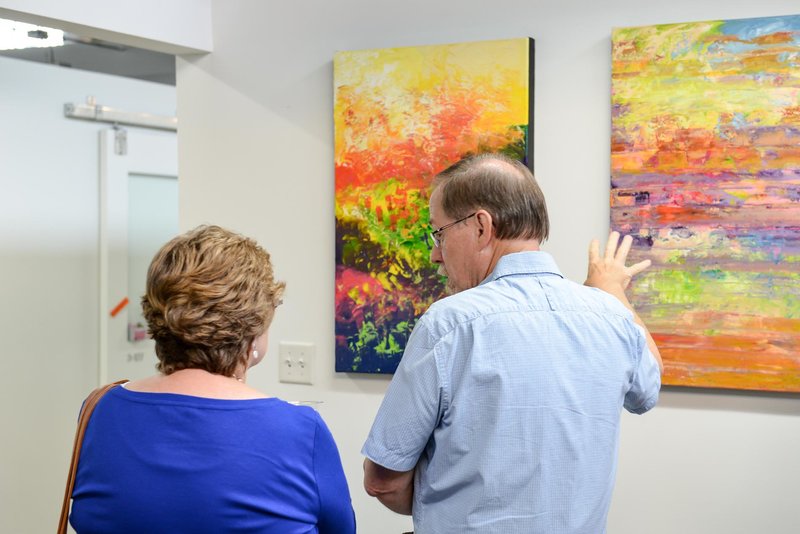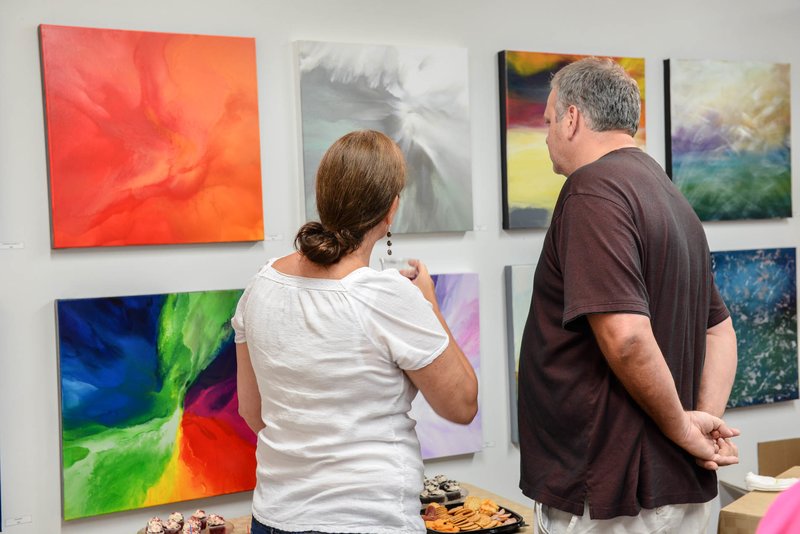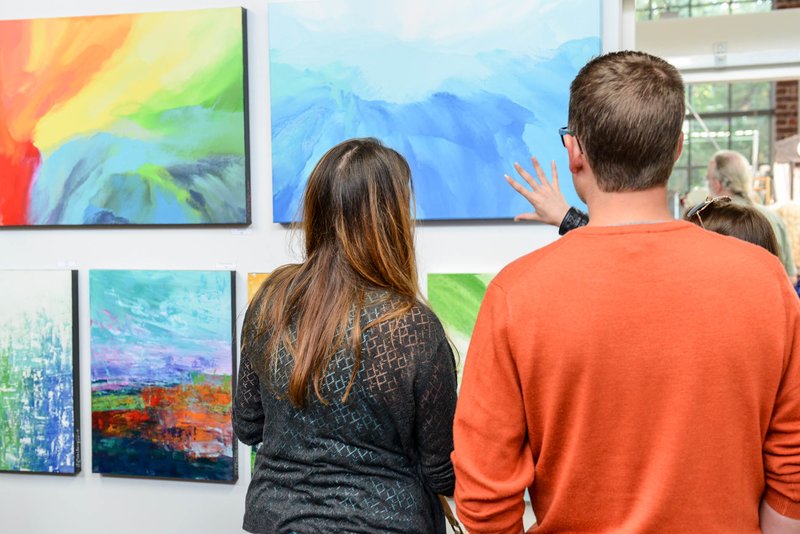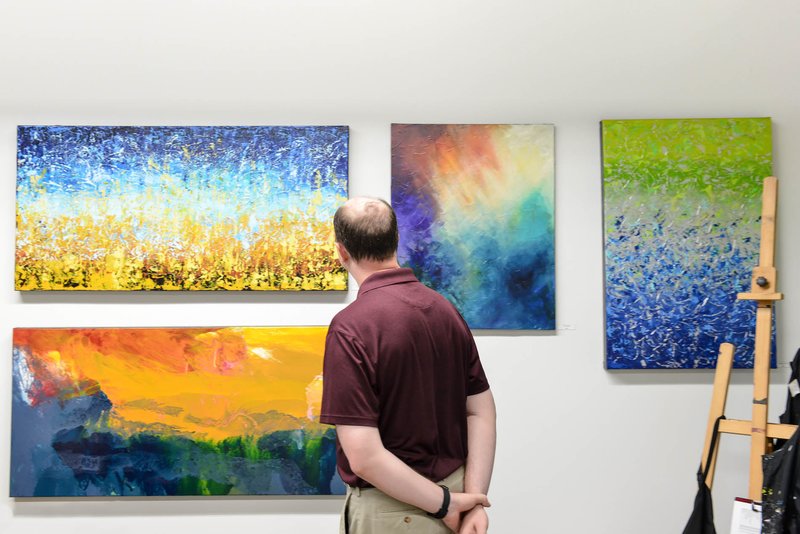 Update: August 9, 2016 PM
The VangoArt website where I also sell my paintings, posted me as Artist of the Day! To read all of the text and comments, go to Vango Art on Instagram.  Here is a screen shot of the posting:
--------------------------------------
Update: August 5, 2016 PM
Great news!  I've set up a new Gallery and Studio location in the Golden Belt Arts building in Durham, NC.  Golden Belt Arts has studio space for 35 artists - painters, metal smithing artists, woodworkers, jewelry creating, enameling, textile art creating, etc.  I have been there one week and it's been a fabulous experience so far.  I feel like I am with "my people"!  If you live in the area or will be here on August 19, please join me for my Grand Opening Celebration.  It will be held in conjunction with the regular Third Friday Durham Arts event and will run from 6:00 to 9:00 PM. That's August 19, 6:00 - 9:00 PM.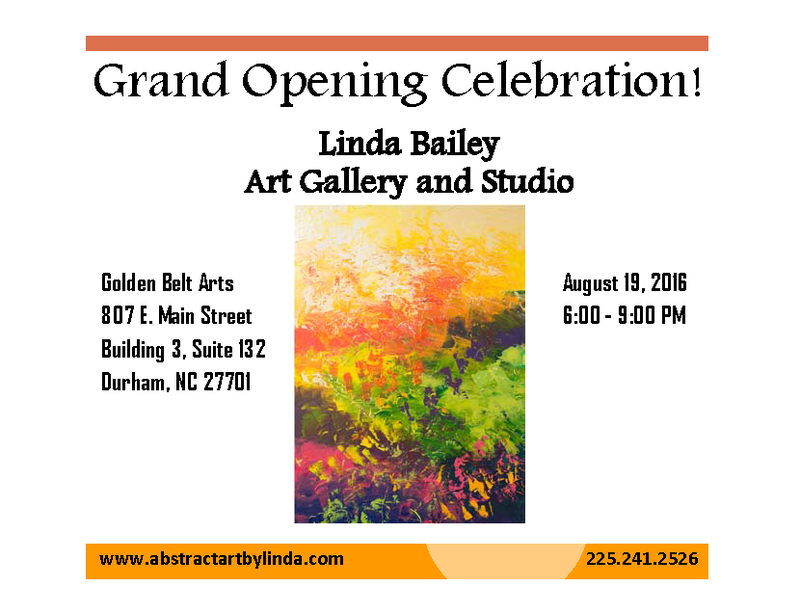 -----------------------------------
Update July 14, 2016 PM
The Fine Arts Camp and Summer Musical were both fabulous! Not only were the 30 campers great singers, dancers, and theater actresses, they were wonderful artists.  One piece of art I had them create was a finger painted vase of flowers. The focus was on the background shading plus how the light hits the vase - no brushes or palette knives were used. See for yourself what a great job these young girls did! Here are a few...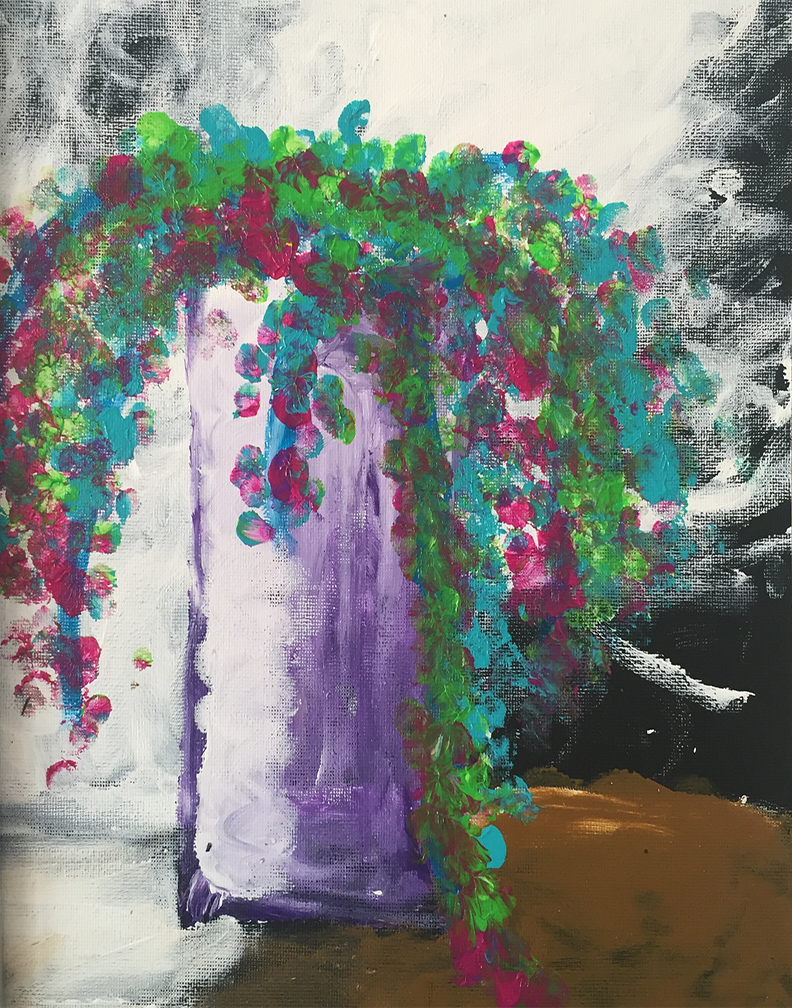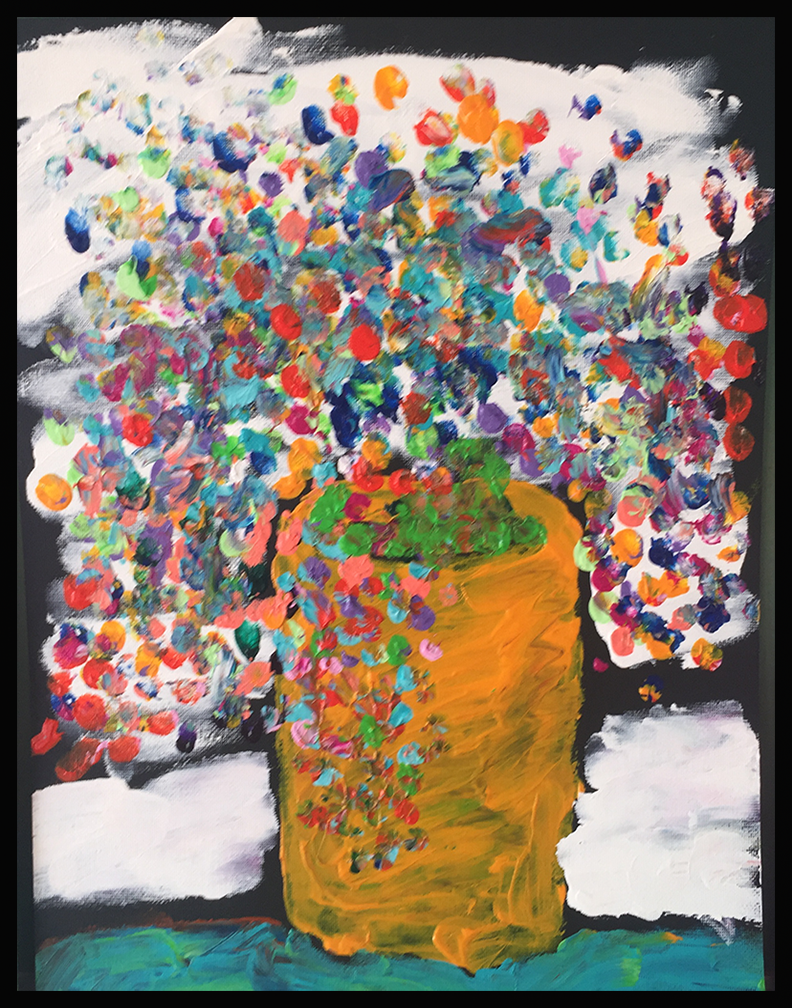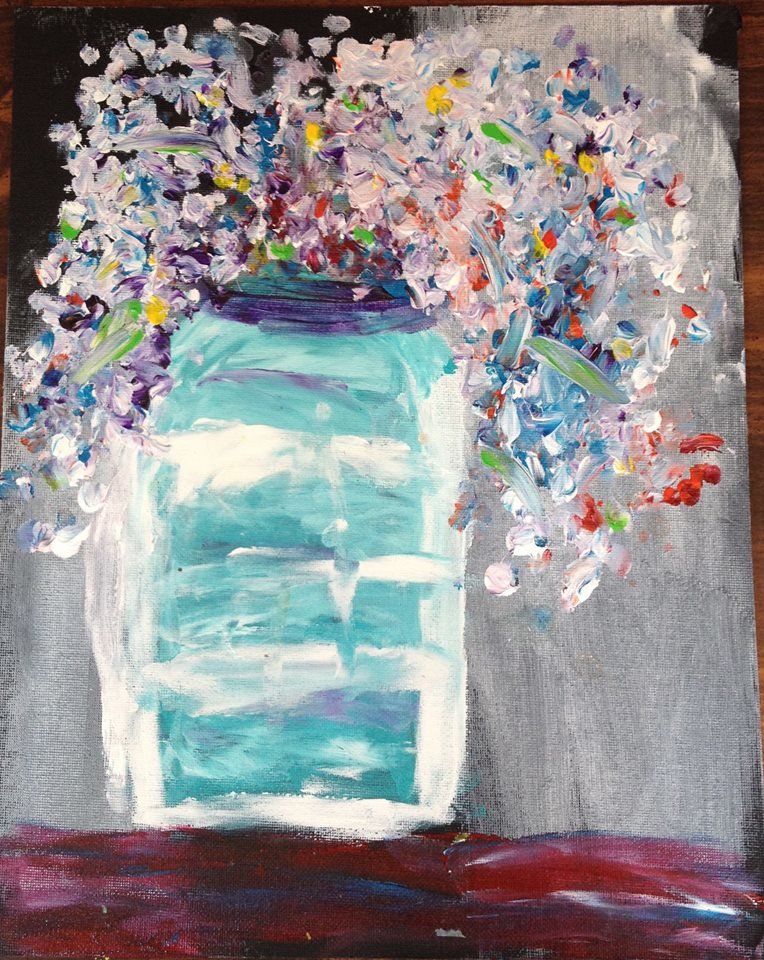 ------------------------------------------
Update June 27, 2016 PM
Wow! The camp is going great so far. One day in, 4 days to go.  Here's a pic of new art that some of the campers created today.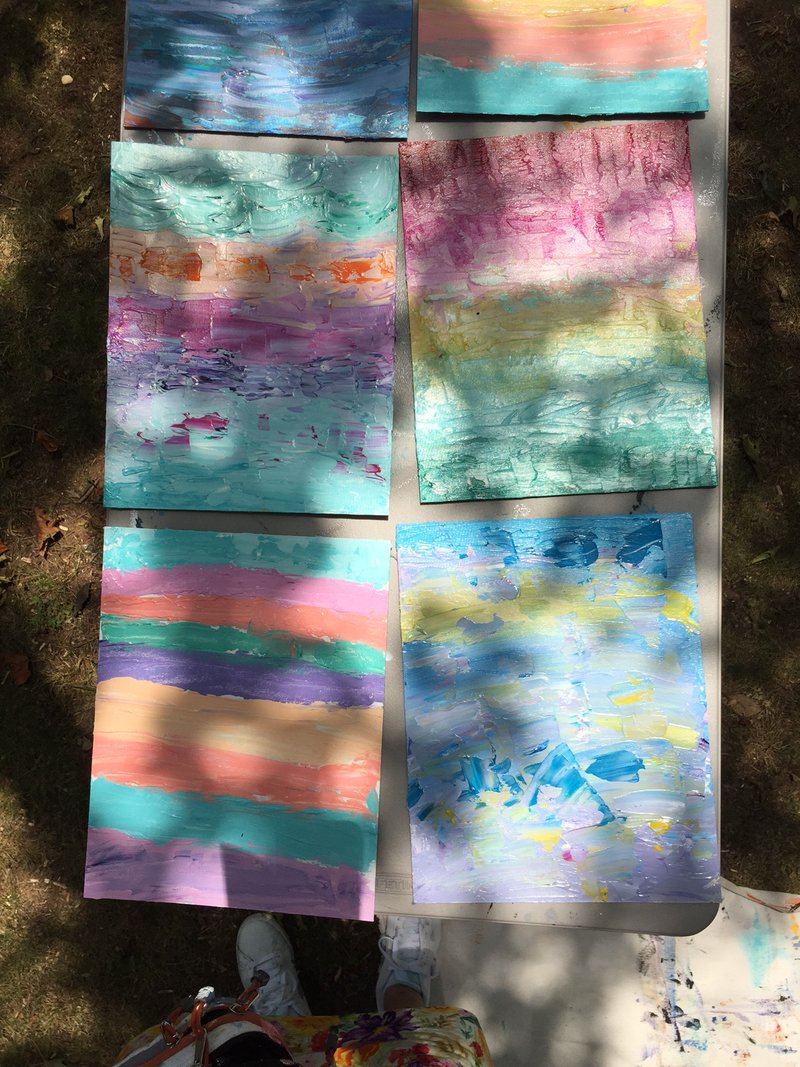 ----------------------------------------------
Update June 22, 2016 PM
Well, that was a long hiatus!  Long story short, I got overwhelmed with a horrible summer cold, a vacation, and several commission paintings.  But I'm back now and getting ready to head to Georgia for a week long Fine Arts Camp in the Commerce, Georgia area. I'm really looking forward to this since we've got all teenager campers and all kinds of painting, singing, dance choreography and theater acting planned.  
In the meantime, I've got a new painting to share. It transformed from the pillar painting I started last month.  Here it is.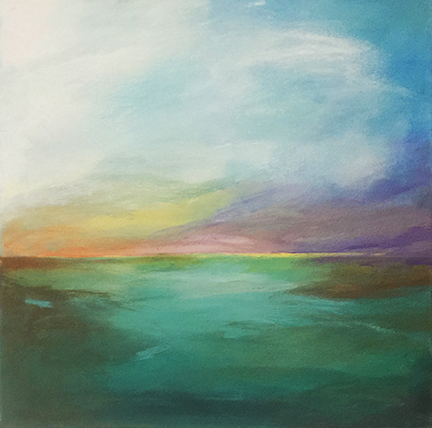 And if you love to look at photos of sunrises and sunsets, check out the ones I received on my Facebook page. You can also like and follow me on my facebook page:  https://www.facebook.com/LindaBaileyArt
------------------------------------------

Update May 27, 2016 PM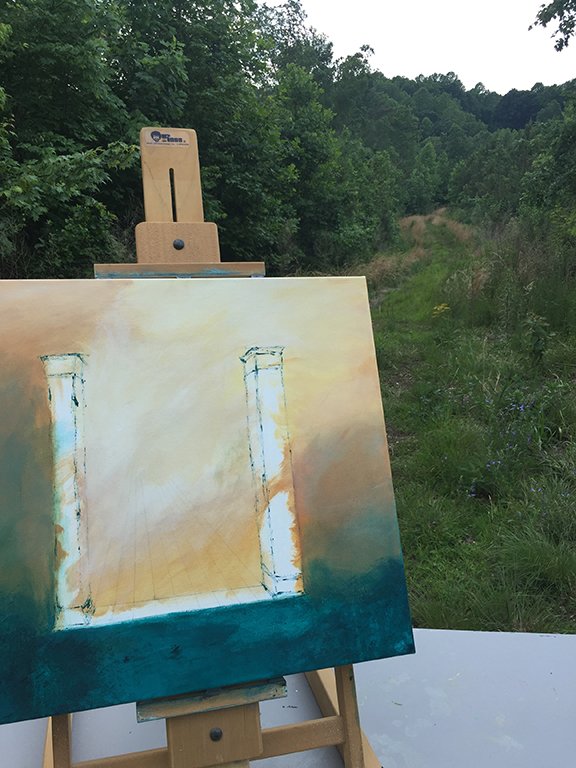 I made some headway today on this smaller painting that I started a few months ago. It's part of the 'Believe It' series and I'm thinking about calling it Gateway. Since I want it to have an ethereal feel, I'm going to try to accomplish this by using a lot of white. We'll see how that works out!  Hot out here today!  I'm packing it up and will work on this one again tomorrow.  Have a great afternoon and evening!
-----------------------------------
Update May 27, 2016 AM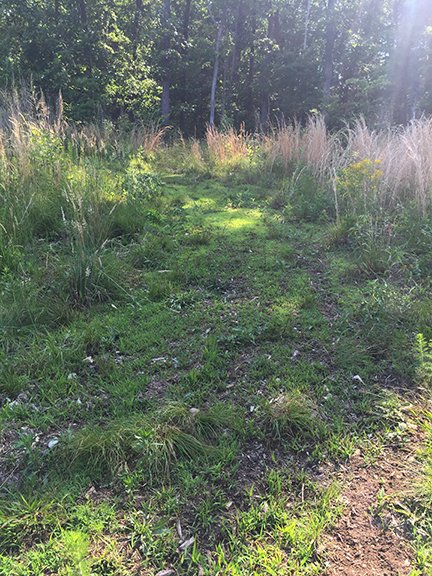 Another beautiful day in the Durham / Hillsborough area! Wow - lots of sunshine!  I found a new place here outside my studio to set up to paint. This is the place -- a good bit of shade and a nice breeze - what else could I need? 
--------------------------------
Update May 26, 2016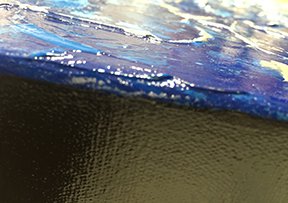 Worked all day on painting the sides of paintings and varnishing. Ready for some creativity!!!
----------------------------------
Update May 25, 2016 PM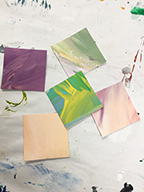 Today I am working on something entirely new! New layout, new pattern, new look!. I've always loved geometrical patterns, especially squares and cubes. In college I was fixated on cubes!  Now I'm working to create a painting that is a collection of small geometric shapes.  Today's project is being created with squares. The pic shown above is of a few of the squares that are similar to the ones I have chosen for today's project.  Look how each individual square is an abstract painting in itself - that's kinda neat. The colors that I am working with remind me of the beach so I'll have to give this work of art a beach-y name.  Stay tuned for the final product. Hopefully, I can finish it today.  
Okay - I just finished it and uploaded it here to my website. Check it out - it's called 'At The Beach'!  Ready to grab my beach towel and head that way!
------------------------------------------
Update May 24, 2016 PM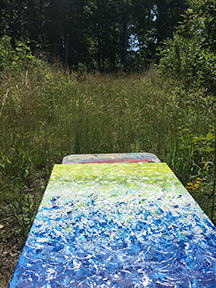 It's only 80 degrees out here but it feels closer to 90. Summer is here! Okay - I think I can call this painting complete so I'm going to post it here on the website under Textural and Pure Abstracts.  Lots of texture in this one! I'm calling this one 'Backyard Pool' and it definitely looks cool enough to dive into. Okay - I've posted it here:  http://abstractartbylinda.com/products/backyard-pool.
---------------------------------------
Update May 24, 2016 AM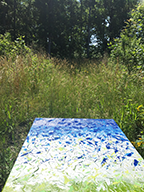 So I found this great little hideaway nestled between two groves of trees. I've been painting here working on this painting that I am titling 'Backyard Pool'. This picture is a work in progress shot. I think I have about 3 hours left to go on it so I should be able to finish it today and post a finished pic.  Stay tuned....
---------------------------------------
My first post!  May 21, 2016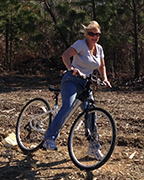 Some of the property outside of my studio is conducive to Plein Air painting, so I'm often looking for good places to set up and paint while enjoying the great outdoors.  Time to get rolling!